ECOS Club Cleans Up
Two Saturdays ago, on October 31st, members of Wakefield's ECOS Club joined the Four Mile Run Conservatory Foundation to clean up Four Mile Run, our local watershed. The Environmentally Conscious Organization of Students (ECOS) was founded to help students who want to learn more about the environment and how to help improve our environent through student led projects and events.
Dr. Tracy runs ECOS club and they meet most Thursdays. He is happy that the club has "become a great forum for students to design and lead their own ongoing individual passions." The club holds a clean up event at Four Mile Run once or twice a year because "much of the litter, oil, fertilizers, and anything else that hits the ground in South Arlington will eventually end up in 4 Mile Run and eventually the Potomac and Chesapeake Bay." The Four Mile Run Conservatory Foundation sponsors these clean up events "and regularly pulls alarming amounts of waste, primarily plastic, from our local watershed."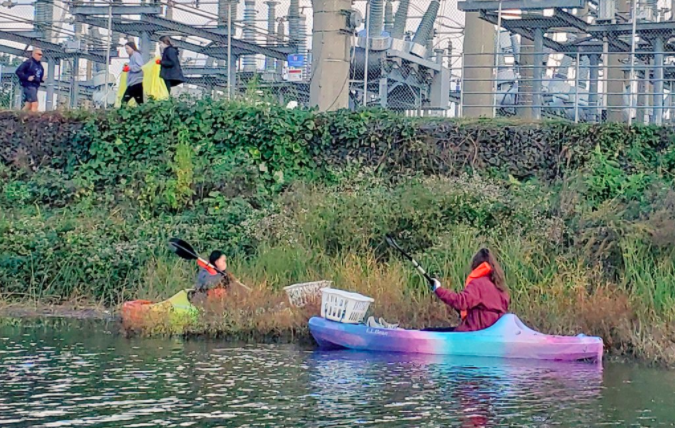 The students and volunteers pulled 186 pounds of trash out of the Four Mile Run's waters that Saturday, and, unfortunately this is not uncommon. One of the chairs of ECOS Club, Wakefield senior Ainsley Pollock said, "The most surprising thing we found was probably a table that was just sitting on the side of the river. Some honorable mentions include a Hydroflask that Dr. Tracy found, a soccer ball that was practically a part of the river bank, and TONS of tennis balls."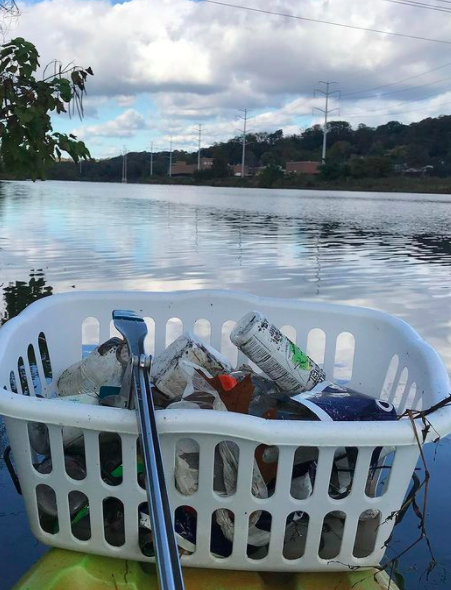 Ainsley joined ECOS club last year because she was "interested in climate change and the environment and wanted to learn more about what I could do to help. My friend Natalia who graduated from Wakefield last year encouraged me to come to meetings so I could help out with their projects." ECOS club is "great. I  get to know people with similar interests that are all working toward common goals. At our most recent cleanup, I met several new people and even spent the entire morning kayaking and talking with someone I had never met before." Sounds like a great way to spend an afternoon and she got to help clean our local environment.
ECOS club stays busy. Members of ECOS club joined the Interact Club, Scouts, and Senior Project students last weekend to build some benches and remove trash at Wakefield's outdoor classroom.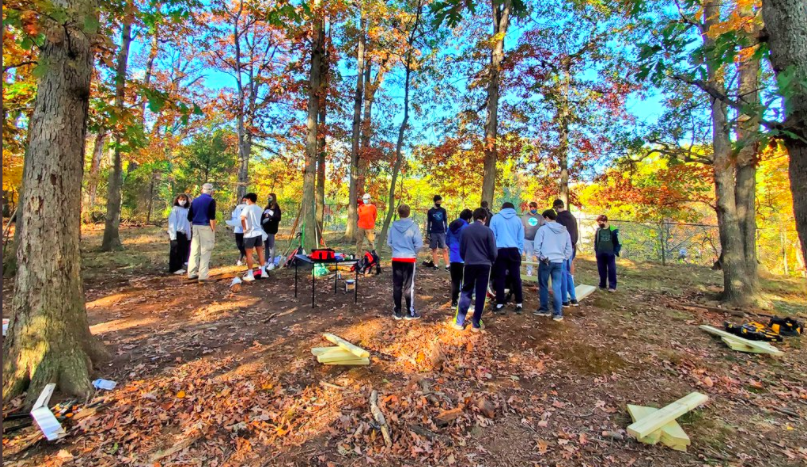 What is next for ECOS Club? Ainsley said the "next big event is our Thanksgiving week sustainability challenge…We're going to have people submit pictures of themselves [on social media] completing a different challenge each day…Please follow our social media because we'll be putting up a ton of ideas about how to live more sustainably and how to help the environment around us! We are relying on social media a lot this year to get our messages out there. Our Instagram and Twitter are @ecoswakefield."
As for meetings, ECOS club has Teams meeting on most Thursdays around 3:30. If you would like the link, please email Dr. Tracy at sean.tracy@apsva.us.
Leave a Comment