Four Family Desserts Wakefield Students Eat on Thanksgiving
Thanksgiving Break is a time for family. Here are four desserts that Wakefield Students eat at Thanksgiving. Try them any time there is a reason to celebrate.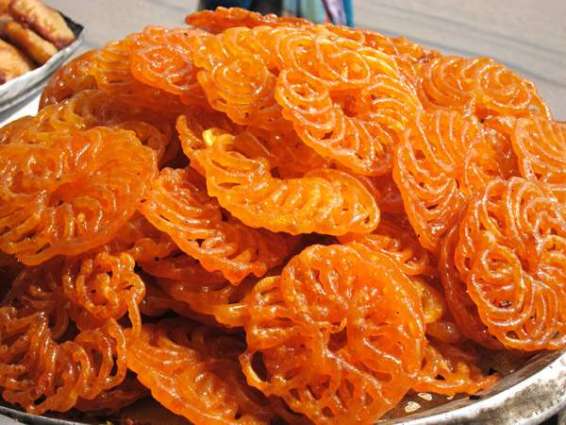 Jalebi
I (Kistan) and my family eat a middle eastern dessert called Jalebi for Thanksgiving.
Ingredients: Maida flour batter or (any flour can work), Sugar syrup, Honey, Oil 
Directions: 
Take one cup of cornstarch, one spoon of flour, one spoon of baking powder and a pinch of salt all into a bowl.

Mix together AND THEN mix one cup of milk then after you have mixed the dry ingredients with the milk make sure the consistency is thin and soft.

Leave the mix outside with plastic wrap over it for one hour.

Put oil in a pot once it's hot then place the batter into a squeezable container for example something like a ketchup bottle.

Make circular shapes in oil.

Place onto another plate once it has fried. 

Then squeeze some honey on top and some powdered sugar on top. 

You can serve hot or cold.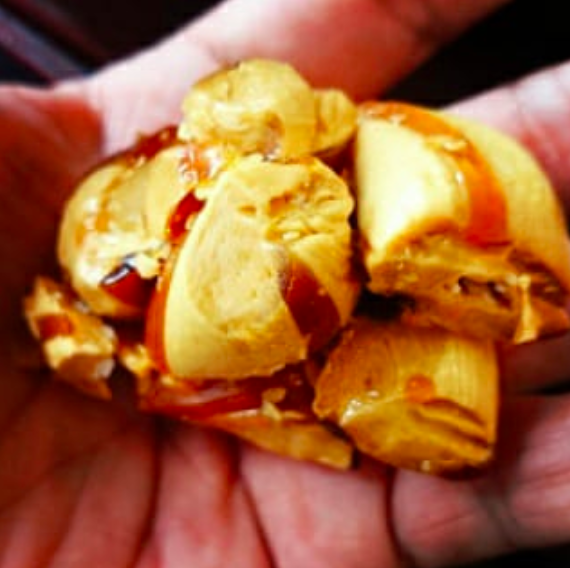 Charamuscas
Junior Rene Pinkney and her family eats a dessert called Charamuscas for Thanksgiving. 
Ingredients: 1 cup of honey, ¼ cup of water, 1 tablespoon of baking soda, 1 ½ cup granulated sugar 
For the filling:
1 cup of roasted and lightly salted peanuts and 1 cup of shredded and unsweetened coconut
Directions: 
Place the peanuts and coconut into a food processor and blend for about 10 seconds until finely ground but NOT a paste. 

Place in a bowl and set aside. 

Line a "12 x 17" sheet pan or cookie pan with parchment paper and lightly coat with non-stick cooking spray. 

Place the honey, sugar, and water into a thick-bottomed saucepan. 

Bring to a boil, then turn down to medium heat and brush the sides of the pan down with a wet, clean pastry brush to avoid crystallization.

Cook until 300 degrees Fahrenheit, then remove from heat. 

Sprinkle baking soda into the hot syrup and whisk very well to ensure the baking soda is cooked. 

Pour onto the sheet pan and let cool for 1 minute. 

After 1 minute the mixture is hot, grab a piece of the mixture the size of a marble and quickly roll it around. 

Sprinkle the coconut & peanut mix on top of the sugar- honey mixture then close and twist to form a small charamusca twist. (Must be done quickly to avoid cracking the candy)

Preheat the oven to 350 degrees fahrenheit, so that the cooked sugar honey syrup can be placed in and out of the oven to keep soft. 

Finally, store the charamuscas in a cold, very dry air tight container.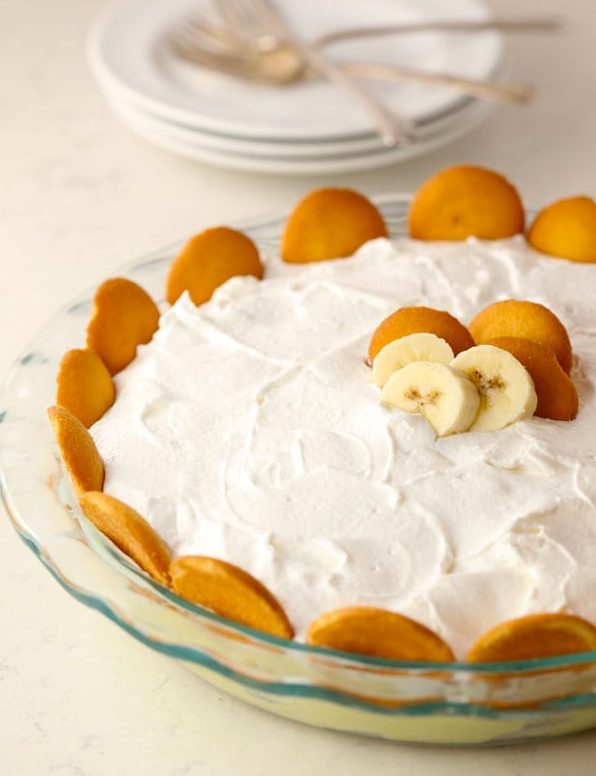 Banana pudding
I (Rajae) and my family eat a popular southern dessert, Banana Pudding, for Thanksgiving.
Ingredients: 1 1/3 c. whole milk, 1 (5.1-oz.) package instant vanilla pudding mix, 1 (14-oz.) can sweetened condensed milk, 3 c. heavy cream, 1 tsp. pure vanilla extract, 1 (12-oz.) box vanilla wafer cookies, 4 bananas, sliced into coins, 2 tsp. granulated sugar
Directions:  
In a large mixing bowl, combine milk, vanilla pudding mix and sweetened condensed milk. Whisk thoroughly, breaking up any lumps, and refrigerate for at least 5 minutes, or until set.

In another large bowl, combine heavy cream and vanilla. Beat until stiff peaks form, 2 to 3 minutes. Set aside half of the mixture for topping the dish. Fold remaining half into the pudding mixture.

Cover the bottom of a 3-quart trifle dish with vanilla wafers. Top with one-third of the pudding mixture. Cover with another layer of the wafer cookies—you may want to also stand some cookies up vertically, so you see the full circle along the edge of the trifle dish. Top with an even layer of banana slices. Continue layering the pudding, wafer cookies, and banana slices until you reach the top, ending with a final layer of banana pudding.

Refrigerate for at least 3 hours, or up to overnight.

Sweeten the remaining whipped cream: Add sugar to whipped cream, stirring to combine. Just before serving, dollop on top of the banana pudding, then sprinkle crumbled wafer cookies on top.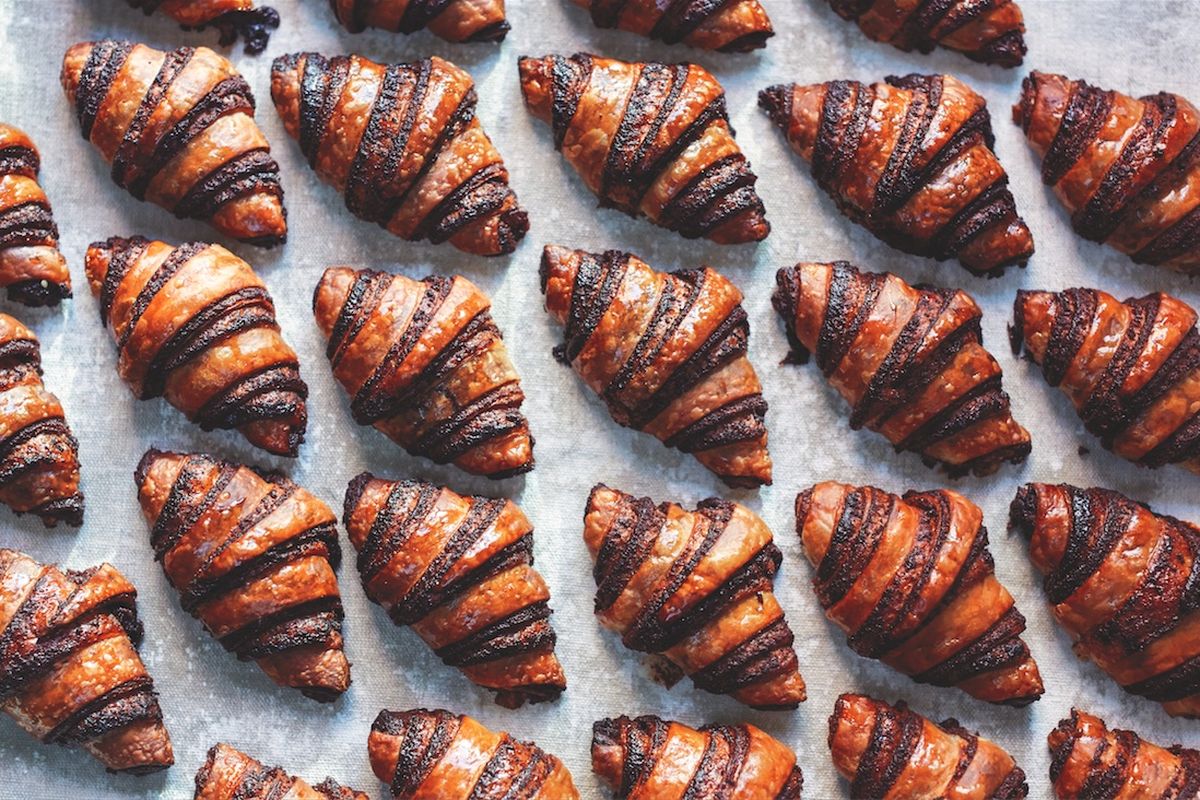 Rugelach
Sophomore Sophie Whitehead Thomas eats Rugelach; it's a Jewish dessert her family likes to make as Fall turns to Winter to celebrate the holidays.
Ingredients: 8 ounces of cream cheese, ½ pound unsalted butter at room temperature, ¼ cup of granulated sugar & 9 more tablespoons, ¼ teaspoons kosher salt, 1 tsp. Vanilla extract, 2 cups of all purpose flour, ¼ cup of brown sugar (packed), 1 ½ tsps. Ground cinnamon, ¾ cup of raisins, 1 cup of walnuts (finely chopped), ½ apricot preserves pureed in a food processor, 1 egg beaten with 1 tbsp milk for egg wash 
Directions:
Cream the cheese and butter in a bowl of an electric mixer fitted with a paddle attachment until light.

Add ¼ cup granulated sugar, the salt and vanilla with the mixer on low speed and the flour and mix until just combined. 

Dump the dough out onto a well floured board and roll into a ball, cut the ball in quarters wrap each piece in plastic and refrigerate for 1 hour 

To make the filling combine 6 tablespoons of granulated sugar, the brown sugar ½ teaspoon cinnamon, the raisins and walnuts. 

On a well floured board, roll each ball of dough into a 9 inch circle, then spread with 2 tablespoons apricot preserves and sprinkle with ½ cup of filling press the filling into the dough 

Cut the circle in 12 different wedges then place cookies points tucked under on a baking sheet lined with parchment paper, let it chill for 30 mins 

Preheat oven to 350 degrees F

Brush each cookie with egg wash and sprinkles with sugar & cinnamon then bake for 15 to 20 mins until lightly brown

Leave on the rack to cool, enjoy!
Try any of these desserts to get you in the holiday spirit, Warriors! Have a great Thanksgiving Break.
Leave a Comment