Six Websites to Holiday Shop for Friends
The holiday season is here. With COVID it's safer for us to do all our shopping from the comfort of our homes. If you're having trouble finding gifts for family and friends, we recommend checking these websites out for unique clothing and accessories. 
Missguided: missguidedus.com 
Missguided is a perfect website to check out if you have women in your life that are into bolder and forward-thinking clothing. They update their website every day adding 1,000 more new styles. A Lot of people don't know about this website, and the clothes are really good.
Etsy: etsy.com 
If you're looking for something with a homemade feel, we recommend Etsy. It is a platform for newer businesses to get their products recognized. There are many handmade products, such as customized keychains, clothing, jewelry, etc. There are a lot of good deals on Esty.
StockX: stockx.com
This is a platform for sneakerheads. There's clothing as well but mostly known for their shoes. It's a website for resellers to sell the newest releases of shoes. Buyers place bids, sellers place asks, and when a bid and ask meet, the sale happens automatically or you may purchase the item immediately at the lowest ask. Before sending you your purchase it is authenticated making sure everything is legit. Some known brands being sold are Jordans, Adidas, Nike, etc.
Depop: www.depop.com
Depop is basically an online thrift store that is easy to navigate and shop from. They range from designer, vintage, and streetwear! You can contact sellers straight through the website if there are any concerns. Alongside purchasing clothing, you can also sell your own clothing. Sellers typically also sell accessories and shoes as well, so there are many things to look at! Depop is also a mobile app!
ASOS: www.asos.com
This platform is perfect for anyone who is into the latest fashion as well as minimalistic looks. ASOS has a wide range of clothing brands as well as their own – ASOS Design. Some brands they sell are Nike, Adidas, AllSaints, Dr. Martens, etc. They have a wide variety of sizes as well as models of different backgrounds. All that AND affordable prices!
GOAT: www.goat.com
Similar to StockX, GOAT has a multitude of clothing but it is mostly known for selling sneakers. Sellers can sell new and used shoes on this platform. When wanting to purchase something, there may already be a "low price" listed. If so, then you can buy that item right away. If there is no low price listed then you can pick what price you'd be willing to pay and the seller can choose to take that price and sell it to you. Each item has been or will be, authenticated to make sure it isn't a knock off before it is shipped out. Some of the many brands sold are Nike, Yeezy, Balenciaga, Comme des Garçons, and many more. 
Time is running out for online shopping. Since more people than ever are shopping online, shipping will be delayed. 
Leave a Comment
About the Contributor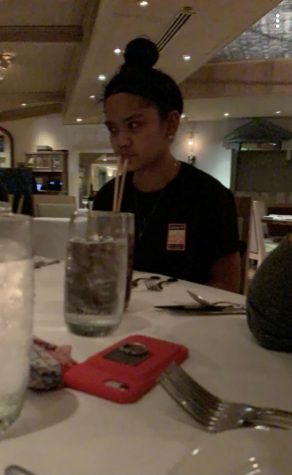 Carissa Banzuelo '21, Staff Writer
What's good guys, my name is Carissa. I'm currently a senior and this is my first year contributing to The Chieftain. Outside of school, I like to hang...