Taylor Swift Saves 2020
Prior to the complete upheaval of our normal lives, Taylor Swift was having a good 2020. In January, her documentary Miss Americana was released on Netflix and was received with open arms by both fans and critics alike. Swift's transparency and candor in the film set the tone for the rest of her year, which would become a pivotal one for the singer, in which honesty and vulnerability took center stage. 
Miss Americana was a foray into the more personal aspects of Taylor's life, with a focus on her decision to become politically active, despite being advised not to. The film also gave Taylor a platform to discuss her struggles with anorexia and body image. It gave us a glimpse of her in a way that her previous film ventures simply weren't able to do. By putting Taylor herself in the forefront, rather than her concerts, we were given the opportunity to relate on a more intimate level, one that allowed her to own her down-to-earth realness.
No longer was she cheekily playing into the stereotypes that once defined her career, she was obliterating them. Making it clear that she never was the boy crazy serial dater the tabloids created, Miss Americana lets Taylor redefine her public persona on her own terms, a luxury that she had previously not been afforded. Her transition to leading a more personal and fulfilling lifestyle paved the way for her brilliant year, one that is unmistakably defined by a mature contentment in her own life. 
After meticulously planning a world tour in support of her seventh studio album, Lover, the world was flipped upside down by the COVID-19 pandemic. But when the virus struck hard, Taylor struck back harder, using her isolation to develop and release a surprise album, Folklore. The album was a huge success and stands up as one of Swift's best.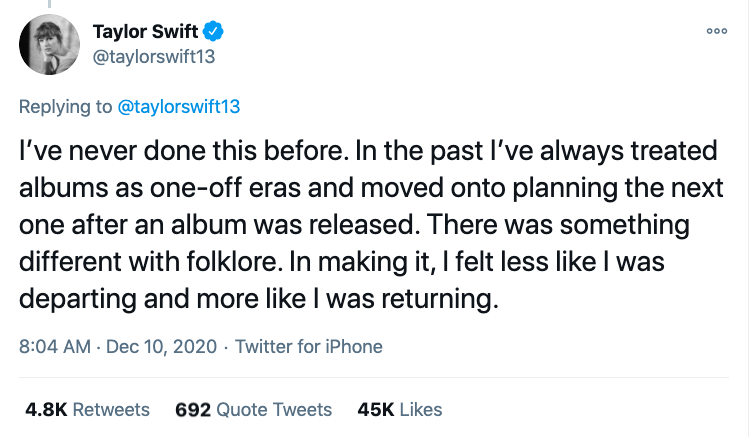 Folklore has a calm and nuanced way about it that emphasizes the need for escapism in such unpredictable times. Listening to Folklore feels like browsing through an old bookstore or window shopping along a boardwalk: simple, soothing, and inviting.  Swift's storytelling on the album largely consists of detailing other people's lives, yet, it feels more personal than ever. It's almost as if she's daring us to read beyond the lines, urging us to dive deeper into every lyric she writes. Gone are the days of the obvious name drops in "Dear John" and "Hey Steven." On Folklore, we have no idea what these songs are about and who they are for; it's up to us to decide what makes sense. Not only are these songs exceedingly intimate, they also have a sense of universality that comes with experiencing something as a global community. We relate to it to not only as the people we once were, but also the people we have now become in the wake of such an intense change in our lives. 
In one of the first scenes of Miss Americana, Taylor's manager calls to tell her that Reputation, the singer's sixth studio album, had not been nominated for any major Grammy awards. With her voice slightly breaking and a visibly disappointed demeanor, Taylor remains calm and asserts "I just need to make a better record." Though it took nearly three years, Folklore's critical and commercial success was hugely well deserved. Folklore feels like the album of the year not only for its country influences and pandemic inspiration, but because it's a testimony to the insane dedication Swift has to her own musical growth and change. She was faced with an unprecedented way of making music and still prevailed.
While many would attest Swift's landmark year to the release of Folklore, I think her increasing comfort in her own music and skin is what really cements this experience as crucial and significant in the steady trek of her life. 
In Folklore: The Long Pond Studio Sessions, a self-directed concert film that was recently released on Disney+, Taylor performs songs from the album live for the first time. In quarantine with producers Aaron Dresser and Jack Antonoff, the film shows every song in its entirety performed by Swift and her band. Scattered throughout the film are also interviews with Taylor and her producers, dissecting the meanings and production of each song. While it does shed light on the group's personal interpretations, it does so without undermining the ability to find your own personal meaning in the lyrics. What's most exciting about The Long Pond Studio Sessions is watching how intensely passionate and proud Taylor is of Folklore. You can tell how much the album means to her and how relieved she is that it has resonated with so many during these times. She made the album with escapism in mind and if her beams of pride don't give it away, she herself also escaped by creating the magic of this brilliant album. 
In the song "Mirrorball," Taylor sings "I'm still trying everything to get you laughing at me." The lyric was written to describe her frustration with the pandemic and how it effectively managed to kill the spotlight for all performers. It's a lyric that is personal to Swift, who had her concerts shut down and her world cave in.  But following the release of a documentary, an album, and a concert film all in the same dumpster fire of a year, I think it's safe to say that Taylor has our attention; we are in awe of the powerful woman who was able to turn an otherwise horrible year into a career triumph. 
As a final gift to her fans in 2020, Taylor announced this morning that she is dropping her 9th studio album at midnight tonight, Evermore. She did so in Taylor Swift fashion with 13 tweets in an hour, her favorite number.

Leave a Comment