Khabib Nurmagomedov: World Sports Star of 2020
On October 24th, Khabib "The Eagle" Nurmagomedov took his last flight. Khabib retired due to his father's death back in July. His father passed away with heart complications, worsened by COVID-19. Khabib said, "Ain't no way I'm going to come here without my father". UFC 254 was Khabib's first fight without his father in his corner. After going 29-0 in his amateur MMA career (13-0) in the UFC, he decided to finally lay his gloves down. "Today, this was my last fight" he said after his submission victory over Justin Gaethje. Khabib told us that he spoke to his mother after his father's death. "She dont (want me) to go fight without father, but I promised her it's going to be my last match".
After announcing his retirement, he said "I know I only want one thing from the UFC, Tuesday, you guys have to put me on number one pound for pound fighter in the world because I deserve this". Even the UFC President agreed with Khabib, "He's the number one pound for pound fighter in the world and, seriously, you have to start putting him up there at GOAT status."
Khabib is the best fighter to ever compete in the Lightweight Division. Let's take a final look at his final match: Khabib vs Gaethje.
Khabib vs Justin Gaethje was one of the most anticipated UFC fights of the year, the lightweight king Khabib Nurmagomedov came out on top. Justin is known for his punching power, but Khabib was not intimidated by that at all. Khabib started off the first round putting tremendous pressure on Justin Gaethje. That's one of the things he's most known for in the UFC. Justin had no time to make any moves against Khabib so he just went for leg kicks to try to slow him down.
For the first round, Khabib made Justin look like an amteuer by making him just run away from him,  every now and then Justin would stop and try to throw a punch but it wasn't that successful. Khabib even had much superior striking in this fight, something he is not known for. At the end of the first round Khabib had 1 takedown on Justin which seemed to make him even more tired than he already was. At the one minute break in between each round, you could hear Justin in his corner saying that he's already getting tired.
When the second round started Khabib continued putting pressure on Justin. 1 minute into the 2nd round, Justin stopped to give Khabib a leg kick. He was successful, but Khabib took him to the ground seconds later. Justin didn't last long after that because Khabib got into perfect position for the triangle choke submission and made Justin pass out. This was Khabib's 29th straight win in competitive MMA and 13th straight in the UFC.
There is speculation that Khabib will come out of retirement for one last fight to fulfill his father's wish. Abdulmanap Nurmagomedov's wish was that he wanted Khabib to go 30-0. "He was completely emotional that night when he got through that fight, I have a feeling that he might go for 30-0." Dana White, UFC President, said. "His dad wanted him to go 30-0 and I think he wants to honor his wish" Dana continued.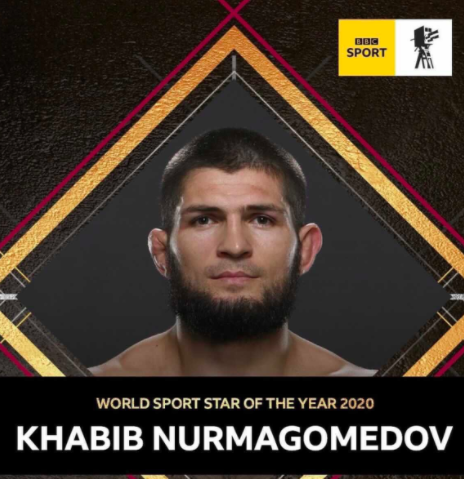 Time will tell. Khabib will be known for his retirement at the age of 32, going 29-0, and being the Undisputed Lightweight World Champion. He was recently named 2020's World Sports Star of the Year. Congrats, Khabib. Rest In Peace, Abdulmanap Nurmagomedov. 
Leave a Comment