Undocumented Immigrants Dream Again: Judge Rules DACA Must Accept New Applicants
Even though immigration detention centers and detrimental immigration policies were enforced under previous presidents, immigrants have never been more afraid for their lives than under the Trump administration. The day Donald Trump was elected, many undocumented immigrants feared more than ever that they would be sent back to their countries of birth. Trump's disapproval of immigration was never a secret; "Building a 'big, beautiful wall' between the US and Mexico was the signature promise of President Donald Trump's 2016 election campaign" according to BBC News. Finally, at the end of the Trump Presidency, there is good news; this month DACA has been reopened to new applicants by court order for the first time since 2017.
Deferred Action for Childhood Arrivals (DACA) is a program that provides relief to individuals who were brought to the U.S. without legal permission as a child, and it was put in place by President Barack Obama in 2012. In September 2017, the Trump administration announced the end of DACA. Then, in January 2018, the Trump administration announced the end of the Temporary Protected Status program (TPS), a program that allowed Central Americans and Haitians the ability to live and work in the U.S. Ending these programs caused millions of immigrants to be displaced and return to a country many didn't even know.
In April of that same year, Attorney General Jeff Sessions announced the "Zero Tolerance" policy. Under this policy, the Department of Justice began to prosecute all individuals who they suspected crossed the border illegally. This policy also forced families to be separated and placed in seperate detention centers, something no other president had done before.
Since 2019, over 500,000 people have been detained and put into centers run by Immigration and Customs Enforcement (ICE). In these detention centers, individuals don't have access to basics like soap, toothpaste, somewhere to shower, and even food and water. Undocumented immigrants sleep on concrete floors in overcrowded cells with lights on 24 hours a day. There are outbreaks of lice, flu, chicken pox, scabies, and now COVID-19. Many reports have come out to describe conditions as inhumane, while other reports bring to our attention the physical, emotional, and sexual abuse the detainees experience.
Why are these conditions and this neglect being allowed in a country that is supposed to care so much about human rights and freedom? No matter their legal status, undocumented immigrants are people and deserve to be treated with respect. Immigrants come to the U.S. chasing the American dream, working hard to provide their families with opportunities and a better life they never had. According to bloomberg.com, The National Immigration Forum estimates that there are as many as 3.6 million Dreamers living in the U.S., many of whom didn't apply for DACA or aged out of the program after it stopped accepting new applicants in 2017. 
Immigrants don't come to steal your jobs, but to do the jobs most Americans won't do. They pay their taxes and follow the law just as much as any other American. It is a step in the right direction that DACA is accepting new applicants; undocumented immigrants deserve a program that helps them stay in this country and have a safer future.
Leave a Comment
About the Contributor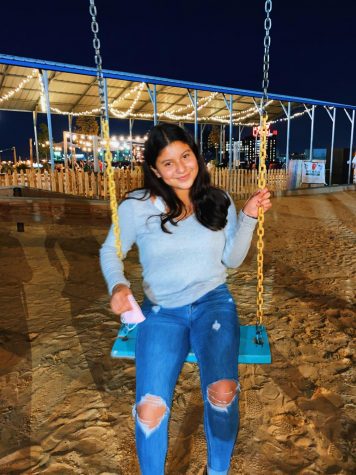 Dalila Martinez '21, Staff Writer
I have been an anchor for WAM since my sophomore year, I make videos for WAM as well. Outside of school, I like to spend time with my family and friends....