Phantogram: Not An Optical Illusion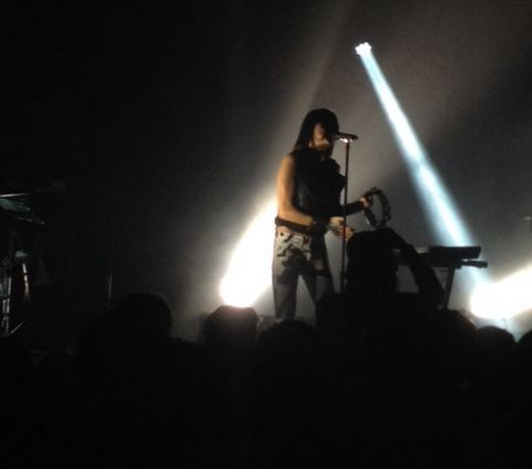 Rams Head Live, a venue in the heart of Baltimore, was filled top to bottom with screaming fans October 17th,  anticipating the arrival of Sarah Barthel and Josh Carter, the lead singers of Phantogram.
The audience was milling around waiting for the headliner. Conversation started to take over the room. Then, everyone grew silent as the lights dimmed. Progressively fans began to cheer "Phantogram! Phantogram! Phantogram!" until the entire venue roared these three syllables in unison.
Then, the low growl of a bass started to take over the chanting; in the blink of an eye, Sarah Barthel appeared on the stage. The crowd went crazy. Multicolored lights flashed on and off with the beat of the drum; the entire three story venue vibrated. Phantogram used their famous ultra extensive reverb to control the crowd. The atmosphere was as buoyant  as the sound.
As Phantogram played their single "Fall In Love," lead singer Barthel put on a shimmering jacket. She became a live human disco ball. She rotated around the stage glittering in the lights. The crowd went completely silent, all mesmerized by the sparkling, bright, reflections on every object in the venue.
The show lasted approximately three hours, and felt like three minutes; there were no dull moments. Barthel had so much energy; she kept the audience singing along to each track, the entire time.
As Phantogram finished up and thanked the crowd, the audience screamed repeatedly for an encore. After two minutes of applauding and howling, Phantogram came back on stage and gave the crowd an encore they would remember for a long time.
Phantogram is by far one of the best live shows out there. Then next time they come close is March 2015 in Madison Square Gardens. It will be worth the trip.