Gymnastics Team Defends District Title
Currently preparing for Districts, we had a chance to talk to Raegan Willis and Sophie Gamboa, both seniors to give us insight into this Gymnastics season. With only 5 meets in one month, the season was the shortest on record due to COVID restrictions.
Sophie said, "So far, the season's been pretty successful, Gabby Watts and I have both been placing pretty well and scoring pretty well. We also have some new people; Sofie Vasquez and Mia Hayes are both new incoming freshmen that have been doing really well. It's been really nice to have some new gymnasts on the team."
Being in a pandemic, many sports had to change the way they did things. Sophie said, "prior to COVID-19, we would warm up on all of the events and then complete all of the events. We would only get like a 30-second touch before we had to get back on the event that we had warmed up on like 20 minutes before. This year…we have been able to do the style of competition where we warm up for the event, and then we compete for the event. Then, we move on and do the same process over again, and I found that it has made my routines a lot better." The requirement of masks while competing has been a tough hurdle for all Winter Sports Athletes. New to the team this year, Raegan said, "It's also hard sometimes when you're competing and out of breath but can't take your mask off; that's very different for me and probably for any athlete this year."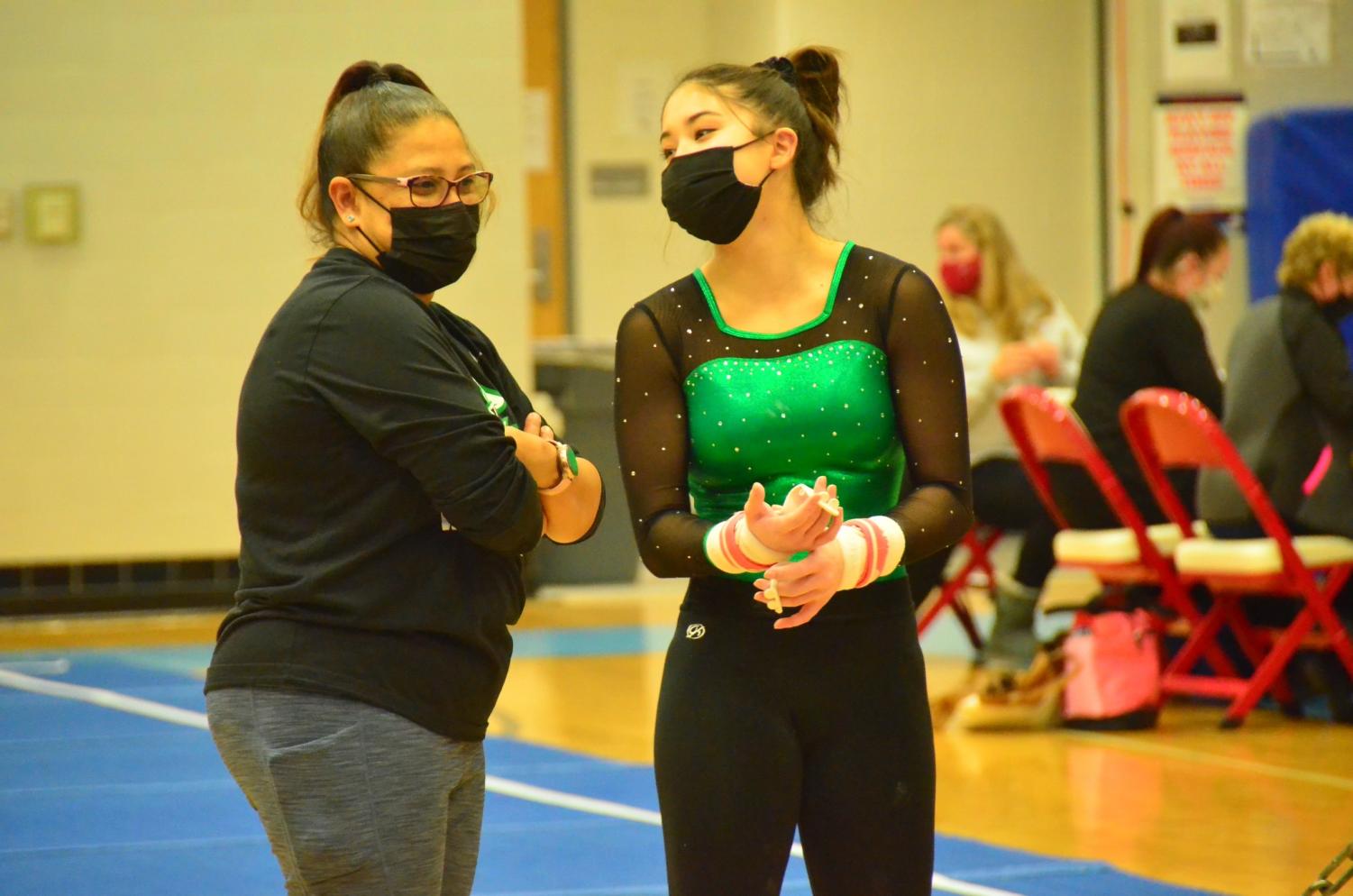 Wakefield has held the District title for 2 years in a row! Sophie is the current title holder of District Individual All-Around Champion. Gabby Watts is the current title holder of Regional Individual All-Around Runner-Up. For Districts Raegan said, "We hope to take the title again, knock on wood, to be the best we can be, finish with high scores, and stay injury-free. My personal goals this year are to stick my vault landings and have my scores go up with each meet." Sophie said, "It would be really nice if we were able to defend that District title and if I was able to defend my own District title. I think it would be really nice to win Districts just because I think as a team it would be nice to have that confidence, especially since I'll be graduating soon and I'll pass the torch on to Gabby Watts and our underclassmen."
Despite it being a lot of hard work, the girls find ways to have fun. Raegan said, "this is a serious sport, but we always find ways to make it fun; from cheering each other on to the bus ride back where we sing at the top of our lungs…masks on, of course."
Wish our gymnasts good luck! Districts are this Thursday, 1/28 at 5pm at Marshall High School.*
UPDATE: Wakefield Gymnastics took home 2nd at Districts this year. Three individual gymnasts qualified for Regionals: senior Sophie Gamboa, junior Gabby Watts, and freshman Sophia Vazquez. Senior Sophie Gamboa also earned the title of All-Around Champion for National Districts again this year. CONGRATULATIONS TO ALL!
Leave a Comment