Bradley Beal is Frustrated: Wizards are Last Place in Almost Everything
The Wizards are currently 15th in the East with a 3-10 record, 30th in the NBA and 2nd to last in Defense. This isn't something that can be fixed overnight, or even with a star player on the court. Bradley Beal knows that all too well.
Bradley Beal is the first player in NBA history to lose 10-straight when scoring 40+ points.
After a disappointing game last Wednesday, 1/27 where he scored 47 of the points in the game and the Wizards still lost to the Pelicans, 124-106, he was asked if he's frustrated. He said, "Is the sky blue?"
Statistically, the Wizards have the best shooting guard/point guard duo in Beal and Westbrook, with Beal averaging 34 points on 53% shooting, and Westbrook averaging half a rebound from a triple double. But why isn't it working? Why is the team in last place? The key to winning is a good selection of role players, and Washington doesn't have enough to earn a winning season.
The Lakers did super well last season with players like Rondo, Dwight Howard, KCP and Danny Green stepping up. It was also the key to Golden State's success in the 2010s. The Wizard bench is awful. By far their best role player, Thomas Bryant, suffered a season ending injury. Shooters like Davis Bertans has seen his accuracy drop by at least 5% in every category.  Young players like Deni Avidja and Rui Hachimura are putting up stats not worth their draft picks. If you're pick 9, you should be putting up better numbers than 7/4/2. 
By far the most important thing to improve is Wizards' defense. As Bradley Beal himself said in an interview with ESPN, "We can't guard a parked car." With a defensive rating of 115 points a game and an overall rating of -4.5 points. Statistically, that is hard to work with on the court. They're offense is pretty good, so it's amazing that they have a negative net rating. 
The one thing the team does have is youth. If they want to improve, they need to trade away Beal and Westbrook for a lot of draft picks and some decent role players. Then, develop the already young guys and expand with some really good draft players.
There are already rumors surrounding Beal, even though there are no official talks. Many fans will be upset if Beal leaves the Wizards, but who could blame him after this season.
UPDATE: The Wizards won on 1/31 vs. Brooklyn, 149-146 and on 2/3 vs. the Miami Heat, 103-100. AND Bradley Beal tied MJ for longest streak to start a season of 25+ points in all 16 of his games. It is looking up for the Wizards.
They have 5 wins this season, and here is the schedule to keep up to date.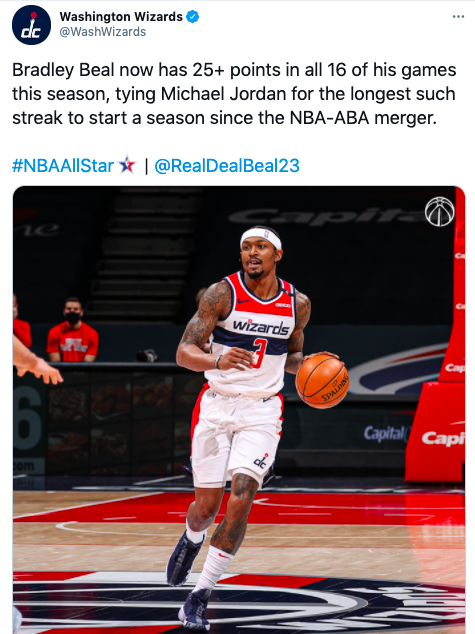 Leave a Comment