What's New At Wakefield?
Last year, the trending topic was the new school building. It was a huge transition for the students and staff that had attended "old Wakefield." That building stood strong for 60 years. This year there are still big changes happening at "new Wakefield." The most anticipated upgrade is the new athletic fields.
"With the completion of the stadium complex…and the anticipated completion of the athletic fields and facilities by Fall 2015, we have more and more to be proud of " said principal Dr. Willmore.
The construction completed over summer was the football field and the areas around that. There are new paved sidewalks leading from the parking lot to the main entrance of the stadium and the ticket booth. Athletic fields and facilities will be assembled where the former building existed. There will be a softball field, a baseball field, a new press box, a concession stand and bathrooms for that area.
Students love the the new field that has been reconstructed. "The warrior sign in the end zone looks…exquisite" said sophomore Amir Soliman. New turf has been laid with color coded lines for each of the different sports teams that use the field. White is for football, yellow is for soccer, orange is for field hockey, blue is for boys lacrosse, and red is for girls lacrosse. "They did an outstanding job…labeling the school mascot on the center of the field and all of the lines around" said sophomore Christian Yosef.
Surrounding the field is arguably the best bleachers and press box in Northern Virginia. "The new stadium is something Wakefield can be proud of. The Warrior at midfield and the letters in the end-zones are a beautiful sight. The updated features around the field create a new atmosphere for students, teachers, and alumni. Plus, the expanded bleachers not only separates us from those pesky away fans, but also creates a larger section for the Super Fans" said junior Anthony Felipe. The current total capacity of the new bleachers on both sides is 2,100! Show up for the games superfans, there is plenty of space!
The players are always talking about how much they love playing on the new field and how its improving the football environment. "The new field is better than the old field because the new field is new and the old field is old" said junior right guard Ryan Jones with a sideways smile. Junior offensive lineman Julius Johnson expanded further; "The field feels better because it is not as heavy. The rubber is lighter and that makes it easier to run on the field."
View Comments (1)
About the Contributor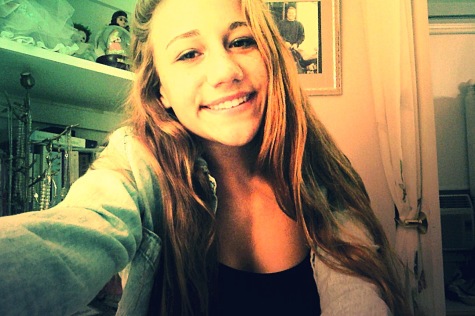 Olivia Ceccato '16, Arts and Entertainment Co-Editor
I am a Junior here at Wakefield High School. I play on the girl's varsity basketball team. I enjoy movies, sports, and being with friends/family. I have...