Volleyball is Ready for Playoff Match ups
Fall Sports are in Playoff week at Wakefield. Our Volleyball team plays against McLean at home tonight at 7pm. They have had a solid season with a 5-6 record and look ready for the postseason. Many on the team now have been waiting for this chance to play in the playoffs for over a year.  All sports have had a very strange and irregular season due to the pandemic. Masks have to be worn at all times and everyone must go through daily Covid screenings to practice and continue on with their season. I talked to two of our experienced juniors to get more perspective on their season.
Marisa Temoshok said, "One of our main goals for the season is to get as far in the playoffs as we can. I believe that our team has great potential." 
Covid has taken a big toll on everything, including the relationships between teammates. Kathryn Coggins shared how difficult it was to have a short season; "some of us did not have any time to get to know each other and form bonds like we have been able to do in past seasons."
 Marisa shares how resilient her teammates are. "Playing Volleyball during the pandemic has been a challenge, but our team has learned to adjust. We adjust to each situation and make the most of the sport that we love to play". During these times sports are understanably harder to play. But what is the hardest challenge? Marisa said, "the hardest challenge is being able to talk on the court through our masks. Communication is so important in the game of volleyball." Even though things are challenging, our players stay flexible and focused to end the season the best they can.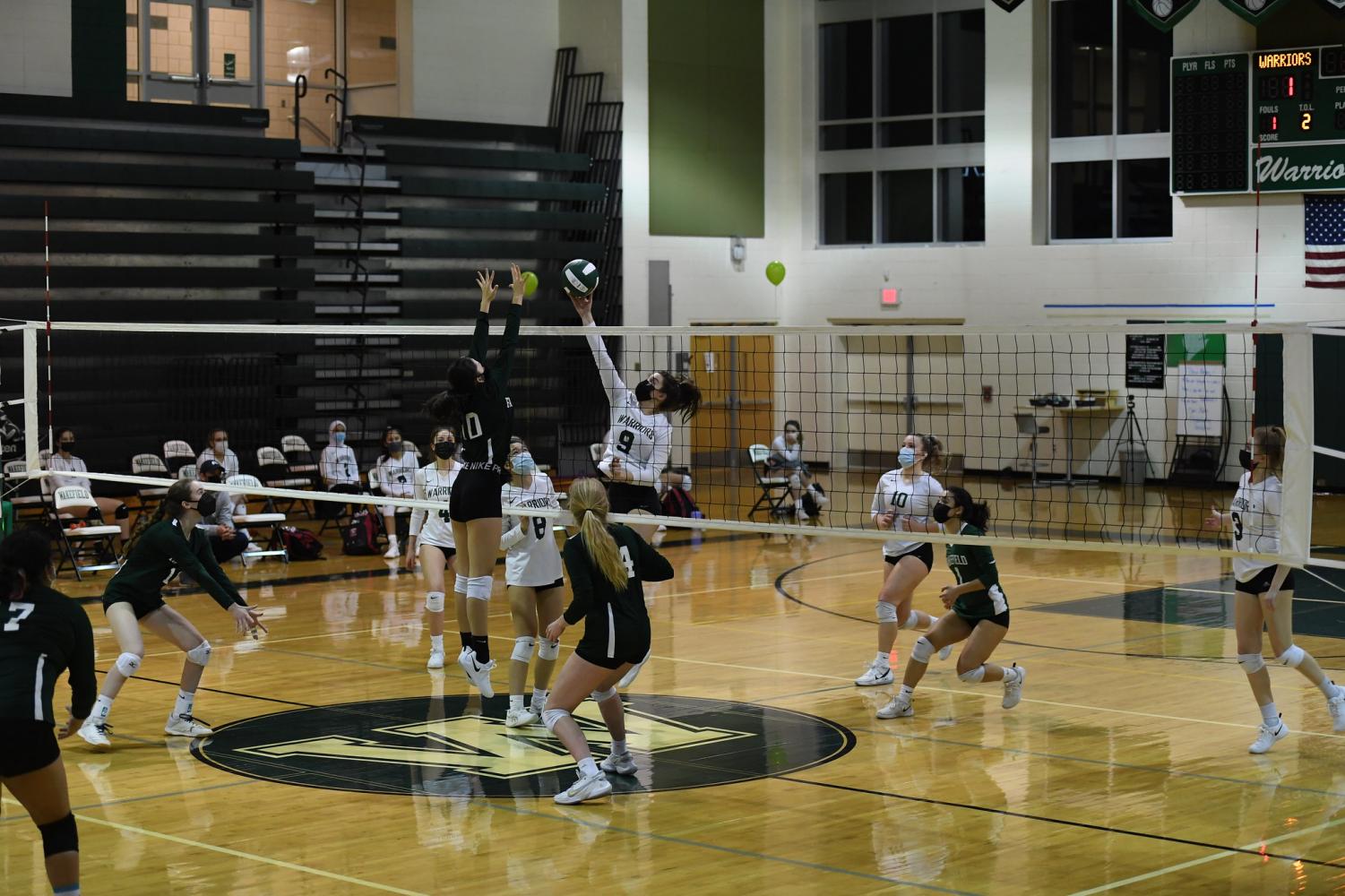 Seniors tend to be role models and pave a way for their young teammates. They will leave a huge mark on Wakefield and its Volleyball program. "The seniors are leaving such a great legacy. I'm really fortunate for the bonds I have made with them over the past couple of years at Wakefield" said Kathryn. "I want to be able to do the same thing and be a role model to the younger girls as they grow, just as I have seen from the girls I look up to." said Marisa.
The challenges seem to be worth it for these athletes. "I'm really glad we were able to have a season this year and I am so thankful for Coach Klein, and others, for making it the best that it can be," Kathryn and Marisa agreed.
You can tune in and support our Warriors tonight, 4/8 at 7pm on Mr. Hailey's Facebook channel.
UPDATE: The Volleyball team came back from being down 2 matches in the beginning to WIN against McLean, 3 matches to 2! Our Volleyball athletes advance to the next round of Regional action on Monday, April 12th at 7pm at Chantily High School. Well done, Warriors!
Leave a Comment