Paris Saint Germain: A Superteam In The Making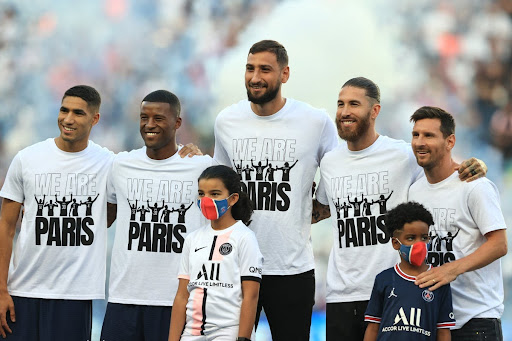 PSG had the summer of a lifetime, making some of the most sensational headline signings of the year. Let's take a look at how they strengthened their squad for the 2021/22 season.
Biggest Signing: Lionel Messi
The signing that tops all signings. After 17 years professionally, and over 2 decades overall, Leo Messi has left FC Barcelona. Due to the Catalan side's financial state, and the Spanish league's restrictions, Messi was unable to renew the contract he wanted to sign at Barcelona, even after agreeing to cut 50% of his salary. That meant he would be forced to sign with another club, and PSG wasted no time getting to the point. With the project they were planning, and the prospect of playing with former teammate Neymar again, Leo was convinced to sign with the French side. PSG signed Messi on a 2 year contract (with an option to extend an additional year), and they paid nothing for it. He is the Mona Lisa to PSG's louvre.
Messi has missed five of eight games since signing to PSG on August 10th due to injuries. He is scheduled to play this Tuesday. Read this article to find out how to watch PSG play on this side of the Atlantic: www.sportingnews.com/us/soccer
Signing for the future: Gianluigi Donnarumma
Gigi Donnarumma signed from AC Milan this summer for free. The 22 year old goalkeeper won the "player of the tournament" award at this summer's Euro as he led his nation, Italy, to glory. One of the most promising talents out there, and arguably one of the best keepers in the world, he'll be a vital component as PSG look to move in the future. He looks to take the mantle from the highly experienced and decorated 34 year old Keylor Navas, and drive this club into the future. 
Most needed signing: Sergio Ramos
With this signing Paris managed to acquire both Barcelona and Real Madrid's captains. Unbelievable. PSG have always had a team of high enough quality to win any game and really compete at the top level. However, their lack of discipline and humility have caused them to fail to win titles such as the Champions League. A perfect example of this is last year's Champions League run. Paris played Bayern Munich as the underdogs, fought hard, and won the tie despite Bayern being the favorites. They went into the semi finals, however, and collapsed in both games against Manchester City due to their cockiness and habitual complaining. Sergio Ramos brings a new element to this team. One of the greatest defenders of all time, and one of the greatest captains ever, he has won it all, leading even some of the biggest names to glory. His discipline and leadership could really help Paris drive over the finish line this time around. 
A lot of speed: Achraf Hakimi
The first signing on this list that PSG actually had to pay for. Achraf Hakimi arrived this summer from Inter Milan for a fee of around 60 million euros and he brings a whole host of talent to PSG's right back position. He's not only lightning fast, he's also quick to offer offensive support on the right hand side, and with Leo Messi naturally drifting in towards the middle, Hakimi should have plenty of space to play to his strengths.
A last minute switch: Georginio Wijnaldum
Gini Wijnaldum was on his way to Barcelona this summer, and everything seemed set in stone. His contract expired at Liverpool this year, and although he was always set to depart Anfield, nobody expected him to end up in Paris. The French club wasted no time convincing Gini that Paris was the place to be, and Wijnaldum accepted. Although he may have been a little overshadowed by some of the more heavyweight signings this summer, that doesn't mean he can't bring a great deal of class and experience to PSG's midfield.
PSG have a great deal of new quality this year, but will it all come to fruition? Only time will tell.
Leave a Comment