Kanye vs. Drake: From Idol to Rival
Are you Team Drake or Team Ye?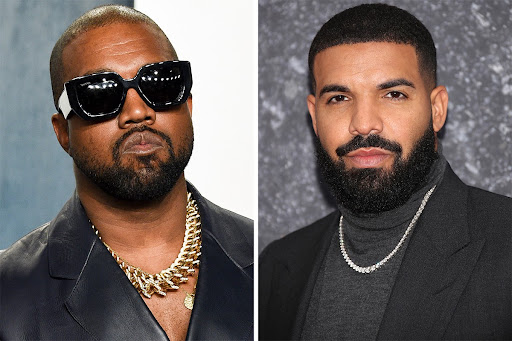 Kanye West and Drake have had consistent beef for 12 years now. Throughout the years, Drake has continuously made diss tracks and written lyrics that were directed towards Kanye. In the earlier years ,Drake had idolized Kanye when he first started out, and Kanye actually produced one of Drake's first big hits, Find Your Love. He also directed the music video for Best I Ever Had. 
Drake and Kanye tend to frequently release their albums around the same time, and it adds to the competitive energy that has been building up for ages. Their most recent albums were released less than a week apart from each other. First, Kanye dropped Donda on August 29th, which is named after his mother who passed away in 2007, and the album is a dedication to her. Then, just a few days later Drake released Certified Lover Boy. Both of these albums were long awaited and postponed due to the two artists trying to one up each other. According to Rolling Stone, Certified Lover Boy received 430 million audio streams in the first three days of being dropped, while Donda had less than 423 million streams in the first eight days of being released. Donda was actually released by Universal Music without Kanye's permission and they intentionally left out some tracks.
Regardless of the back and forth between Kanye and Drake, they work with many of the same artists. On the new albums they share features such as Travis Scott, Lil Baby, Jay Z, Young Thug, Ty Dolla Sign, Lil Durk and Kid Cudi. Kanye and Jay Z have a history together and are a known duo, they had a collaboration album in 2011 called Watch the Throne. Jay was a mentor to Kanye similar to how Kanye helped Drake start out his music career.
Kanye rarely made diss tracks towards Drake, until 2018 when he released his single Lift Yourself. Kanye had teased a beat to Drake which was sampled from the 1973 soul song ,"Liberty" by the group Amnesty. They had what seemed like a valid arrangement, but days after their exchange Kanye released Lift Yourself and Drake was outraged. Not too long ago, Kanye also exposed Drake's Toronto address which led Drake to leak Kanye's song with Andre 3000. The track was supposed to be featured on Donda but it didn't make the cut. 
Their rivalry may have caused controversy in the music industry, but it brought out the best of their abilities.  Both Drake and Kanye continue to produce amazing music that tops the charts, and they push each other to be better artists. You can stream Donda and Certified Lover Boy on all streaming platforms.
Listen and decide for yourself if you're team Drake or Ye.
View Comments (2)