Last Minute Group Halloween Costumes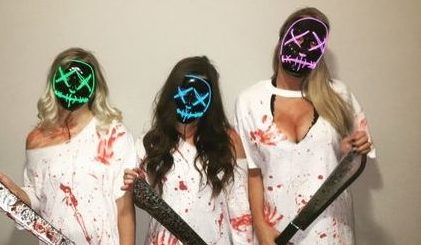 "Halloween is not only about putting on a costume, but it's about finding the imagination and costume within ourselves." said radio personality Elvis Duran. Halloween is the one night of the year you can dress up as whoever and whatever you want. Stuck on what to be for Halloween? Going as a group to a party tonight? Don't worry, we got you covered.
Being a witch for Halloween is one of the most popular ideas for any age group. It is simple, spooky and easy to find on a budget; that's why it is very popular. You can get the witch outfit by buying a black witch hat from Walmart for $12.95. A regular black dress from Target, Walmart, or it might even be in your closet. Being a zombie cheerleader has been a very popular choice in recent years. You can get the outfit for that from Walmart for $12. You can get the makeup from Target for $3.
Some other ideas that work well with duos are dressing up as your favorite movie or TV show characters: Cheryl and Dion from Clueless, Eleven and Mike from Stranger Things, or Stefan and Damon from Vampire Diaries. Cheryl and Dion have been an iconic duo since 1995. They both have had a huge influence on a lot of people's fashion sense; who wouldn't want to be them? You can dress up as them by buying a matching plaid skirt and blazer from Forever 21 for $15 each. Eleven and Mike ruled the summer of 2019. It is very easy to dress up as them, no matter who you are. You can go as Eleven and Mike by wearing a short sleeve shirt and black cargo pants from Target for $20. Stefan and Damon are probably one of the top 5 most iconic and hottest brother duos. You and your best friend, or even your brother, could definitely go as them and stun people at the party with clothes you probably have in your closet. You can dress up as Damon by wearing any shirt, a leather jacket and black skinny jeans. You can be Stefan by wearing a button up and black skinny jeans.
You and your crew can go as the purge, the squid game cast, or cowgirls and cowboys. A cute purge costume is an oversized white tee with long black socks and any white shoes. For the makeup part you can either get halloween makeup and fake blood from Target or a purge mask for just $20 from Walmart. You can put fake blood all over the white tee to make the costume even more scary. The show Squid Game has been trending lately. You and your friends can dress up as the cast. We personally think the tracksuits are cute and you can get some green tracksuits from Walmart, or just pair a green hoodie and sweats together that might already be in your closet. If you and your friends want to do something basic, the cowgirl and cowboy costumes might be the way to dress for the night. s are the outfit for you; it's simple, cute and a teen favorite. Wear a white tank top, pink skirt and a cowboy hat from Walmart to be a cowgirl, and any flannel and jeans in your closet with a cowboy hat from Walmart for a cowboy costume. Easy and comfortable for the night.
We know what we are going to be, we are going as the purge! We hope these suggestions help you find what you want to be for Halloween. Don't forget to pair up your costume with a facial mask whether you're going trick or treating or to a party because COVID is still out there.    
Leave a Comment