My Winter Samosa Recipe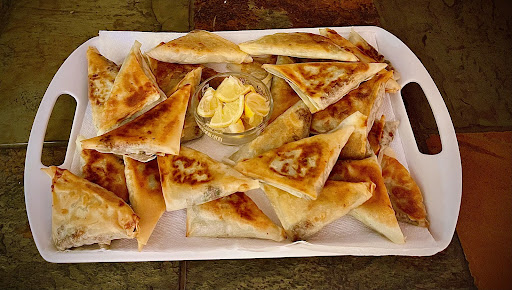 Samosas have long been a traditional food in many Asian, Middle Eastern, and African cultures. Various groups have produced their own versions of samosas depending on the region, resulting in a wide variety of samosa combinations. As a result, samosas have a diverse range of tastes that burst through each one. This recipe from Tasty is one I make for my family.
Filling: 
1lb of ground beef

1 teaspoon of cumin

½ teaspoon of turmeric powder

2 cloves of garlic

½ teaspoon of ginger

1 teaspoon of salt

1 teaspoon of pepper 

1 minced jalapeño

4 diced scallions 

1 diced red onion

1 teaspoon of coriander

2 tablespoons of fresh chopped cilantro
Wrapper:
3 cups of oil

¼ tsp salt

1 cup + 2 tablespoon of water 

3 cups of flour 
(You can use a springform wrapper instead of making it from scratch.)
Directions: 
First you need to prepare a large pan and add a drizzle of olive oil, once it's at a high temperature, add the beef and break it apart with a spatula for about a couple of minutes. Then, add the onions and cook the meat. Right after that, add garlic, jalapeño, salt, pepper, coriander, cumin and scallions to the beef. 
In a separate but large bowl, add the flour, salt, olive oil, and water. Use a utensil to mix it thoroughly. Once it reaches a perfect consistency, slowly remove it from the bowl and place it on a floured surface and knead it for a couple of minutes until the dough is perfect enough to use.
Then, shape the dough into a ball and lightly brush it with olive oil, after you should let it rest for half an hour. Then, you should roll the dough into a log and cut into 10 equal sections. Take each section and roll it into a ball using a rolling pin until it is flat and turns into a thin circle then repeat this process with the rest of the dough.
In a large oiled pan place each circle of dough and then cook each one individually on each side. After this process is finished, start cutting the circles into four quarters. Fold the circle dough until it forms a pocket and then add the filing. Use a flour paste which is a mixture made from water and flour to seal the circle dough. Continue this process with the rest.
Afterwards, prepare a large oiled pan and start frying the samosas. After about 5 minutes or so, remove the samosas from the pan and allow it to drain the oil. After it cools and rest for about a half an hour, it's ready to enjoy as a snack between family and friends. 
Leave a Comment