Encanto Tops the Box Office with Its Vibrancy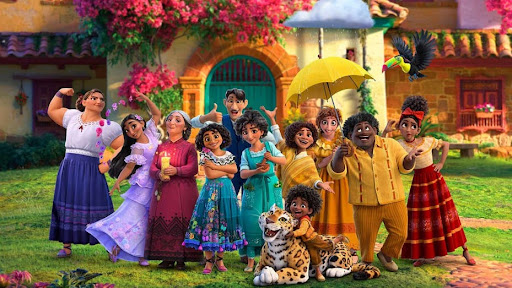 Encanto was released on November 24th and has already grossed over 40.3 million dollars in North America alone. It was able to top the box office last week over big films like the star studded House of Gucci and has a 93% on Rotten Tomatoes. It's also been praised for showing a good representation of Latin American culture, as well it's portrayal of different Colombian skin tones, and how they can all mix in one family. ​​Top critic Nell Minow shared her opinion on Rotten Tomatoes, "Families will enjoy Encanto but what may be more meaningful are the conversations we have afterward."
Encanto centers around a Colombian family with interesting magical gifts that allow them to help their town. The main character Mirabel has to learn to cope with the fact that she is the only one never given a gift. This movie brings joy, sadness, and a great story for everyone in your family.
Encanto is able to perfectly show Latino culture without it being stereotypical or the main subject of the movie. It also shows many real-world problems such as natives being forced out of their land by colonizers, pressure, anxiety ,and feeling as if you don't fit in. It's able to blend emotional scenes with the vibrant storyline; each character brings their own special flair to the movie like Camilo's funny one-liners or Mirabel's touching journey to be accepted by her own community. 
Hamilton songwriter Lin Manuel Miranda was also able to produce 8 strong and melodious original songs for the movie. The songs are masterfully crafted with Latin inspiration, catchy beats, and addicting vocals. The fan-favorite 3 minute song, "We Don't Talk About Bruno" has already garnered over 1.5 million views on Youtube and Spotify in the short time it has been out. The actors' voices, such as Rheny Feliz and Adassa, have amazing vocals in this song which are able to perfectly show their characters personalities.
You can watch Encanto exclusively in theaters such as AMC, Regal Cinemas and more. It is expected to be released to Disney+ on December 24th, just in time for the holidays.
Leave a Comment