UFC 270: A Body Slam Changed the Outcome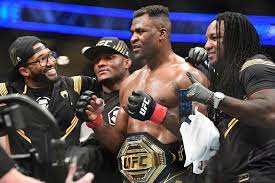 UFC 270 was an action packed fight night! The main event of the evening was a heavyweight clash between champ Francis Ngannou and interim heavyweight champion Ciryl Gane.
The fight was very surprising because Ngannou completely changed his fighting style; normally he is known for being a devastating knockout artist but he switched it up this fight and he wrestled.
His opponent Cyril Gane won the first two rounds by keeping his distance from Ngannou, and making sure he didnt get hit with a big punch, hitting Francis with jabs and leg kicks. After the first two rounds, Francis knew he had to change his game plan, so he started wrestling. This is the moment when the fight started to switch in Francis's favour; he grabbed Cyril and body slammed him to the ground, keeping him there for the rest of the round. Cyril was tired after that, and Francis took him down for the remaining 3 rounds. By unanimous decision, Francis Ngannou successfully defended his championship.
The co-main event was the 3rd fight between the flyweights(125lbs) Brand Moreno the champion vs the former champ Deiveson Figueredo. This fight was an all out five round war. Brandon moreno is known for his good technique in striking and Figueredo is known for his one punch knockout powers. Overall the fight was a very good even and competitive fight but at the end of the day Figueredos punching power ended up him winning the fight on the judges scorecards by landing the more effective and powerful punches resulting in him getting his championship title back.
Leave a Comment