Nightmare Alley (2021) Movie Review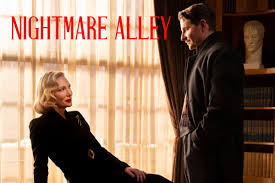 In one month, the 94th Academy Awards will honor the best films from 2021, including Guillermo del Toro's Nightmare Alley. Nightmare Alley stars Bradley Cooper as a traveling carnival employee who discovers a keen ability to read minds as an act. As he rises in prestige he comes across unique clients with bad intentions, and the story escalates further when he meets Lilith Ritter (Cate Blanchett).The film has 4 Oscar nominations (Best Picture, Best Cinematography, Best Costume Design, and Best Production Design).
The plot of Nightmare Alley, consciously veers off in a different direction around halfway through the film. The final scene in Nightmare Alley is similar to other films where the main characters are ironically stuck in dire situations due to their ostensibly arrogant attempts at a more preferable life. The casting of Nightmare Alley was fitting for the time period and tone of the picture (Bradley Cooper, Cate Blanchett, and Willem Dafoe stood out with great performances). 
The movie is visually appealing with meticulous attention regarding the set design. However, the film certainly could have been trimmed by at least 30 minutes, and for the length of the movie more could have been done more. Nominated for four Oscars this year, Nightmare Alley was generally well received by critics — 79% positive Rotten Tomatoes, 72% positive PostTrak. 
It is worth the watch and streaming on Hulu and HBOMax+. Final review of Nightmare Alley: 3/5 stars.
Leave a Comment