El camino a la gloria apenas ha comenzado: The road to glory has only just begun
El camino a la gloria apenas ha comenzado
Este miércoles 23 de febrero concluyeron los partidos de ida de los octavos de final de la UEFA Champions League, en los cuales vimos partidos muy interesantes y algunos otros muy decepcionantes.
La jornada de octavos de final arrancaba con el partido con mayor expectativa, el PSG vs Real Madrid. Este duelo daba mucho de que hablar y emocionaba mucho a los fanáticos, el ver a Messi contra su mayor rival, a Mbappe contra ¿su futuro equipo? y a Keylor Navas contra el equipo con el que gano 3 Champions eran factores que hacían que todos se esperaran un partidazo en donde ambos equipos generaran ocasiones y hubieran muchos goles y emociones. Lamentablemente no fue así, y lo que vimos fue un Real Madrid superado completamente, defendiendo todo el partido y a un Paris que no se canso de fallar, que pudo fácilmente haber marcado 3 goles sino fuera por el partidazo de Militao, Alaba y Courtois.
Ese mismo día vimos al Manchester City aplastar como visitante al Sporting de Lisboa con un resultado abultado de 5-0, los goles fueron anotados por Riyad Mahrez 7', Bernardo Silva
17', 44', Phil Foden 32' y Raheem Sterling 58', este partido no tenia las expectativas tan altas como el del Madrid, pero en mi opinión estuvo mas emocionante que este.
El miércoles 16 de febrero vimos dos partidos muy interesantes, el Inter vs Liverpool y el Salzburg vs Bayern, este ultimo sorprendio a todos, porque a pesar de que el Bayern era claro favorito, parecía que los de Austria se llevarían el partido, hasta que en el minuto 90, Kingsley Coman marco el gol que empato el partido y dejo las cosas abiertas para la vuelta.
El Inter vs Liverpool fue otra historia, los de Kloop llegaban como favoritos para este partido debido a los malos resultados que el Inter estaba teniendo en la Serie A, en donde perdió el liderato a pesar de la ventaja que tenia. A pesar de esto nadie daba por muertos a los italianos y se esperaba que fuera un buen partido. Al final el marcador fue de 2-0 a favor del Liverpool por goles del brasileño Roberto Firmino 75' y del egipcio Mohamed Salah 83'.
Una semana después se enfrentaron el Chelsea vs el Lile, terminando en un marcador de 2-0 a favor de los blues, por gol de Kai Havertz 8' y del estadounidense Christian Pulisic 63', ese mismo dia también se enfrentaron el Villarreal vs la Juventus de Turin, el marcador de este partido termino 1-1 con goles de Dušan Vlahović 1' por parte de la Juventus y de Dani Parejo 66' por parte de los de Villarreal.
Los partidos de ida de los octavos de final de la champions concluían con los duelos entre Atletico de Madrid vs Manchester United y Benfica vs Ajax, ambos duelos concluyeron con empate, el primero de ellos termino en un empate a 1, por goles de Joao Felix 7' y Anthony Elanga 80', y el segundo en un empate a 2, por goles de Dusan Tadic 18', Sebastian Haller 26' (OG), Sebastian Haller 29' y Roman Yaremchuck 72'.
Las fechas para los partidos de vuelta de la champions serán las siguientes:
Martes 8 de marzo, 15:00
Bayern Munich vs FC Salzburg
Liverpool vs Inter de Milan
Miercoles 9 de marzo, 15:00
Real Madrid vs PSG
Manchester City vs Sporting CP
Martes 15 de marzo, 16:00
Manchester United vs Atletico de Madrid
Ajax vs Benfica
Miercoles 16 de marzo, 16:00
Juventus vs Villarreal
Lille vs Chelsea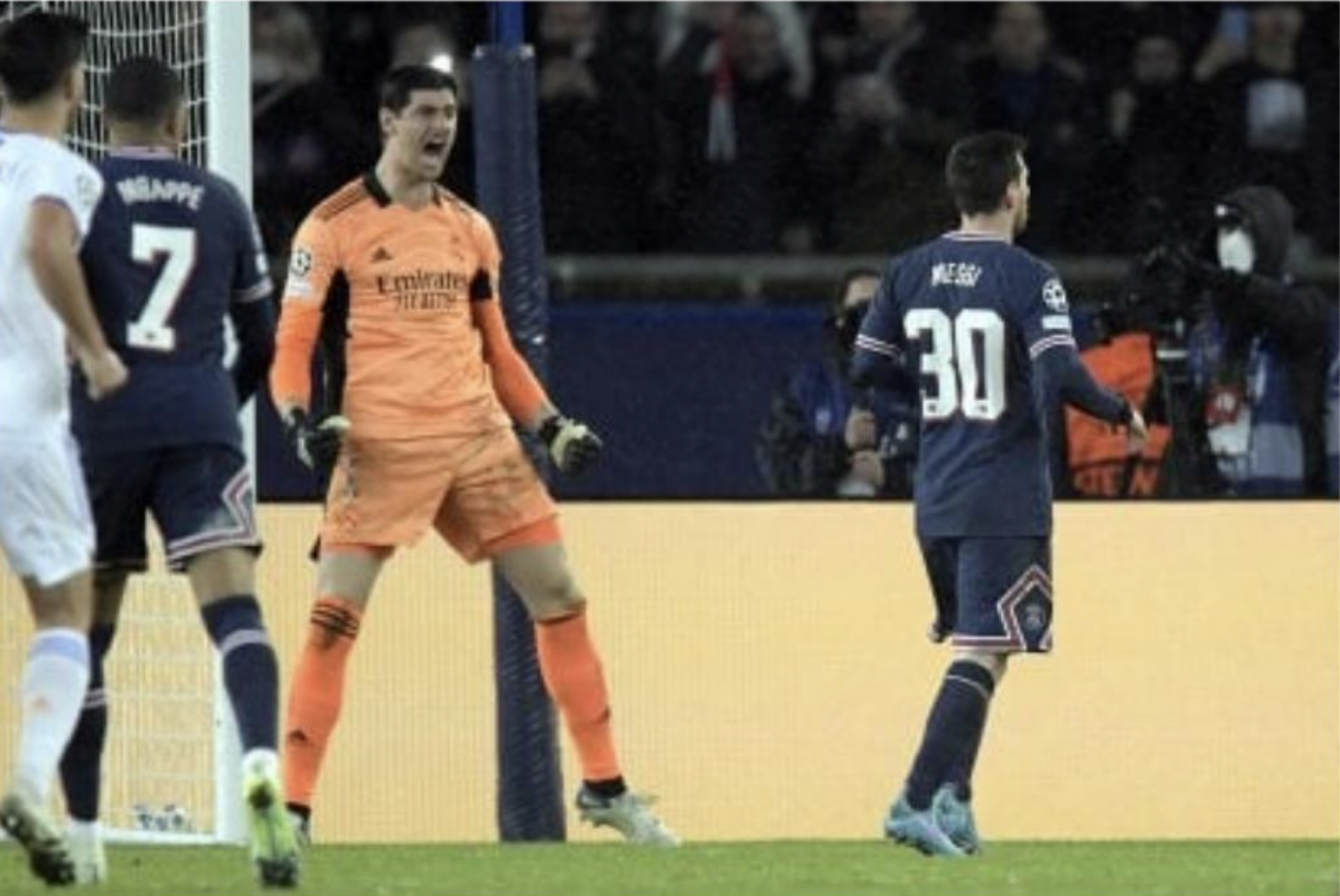 The road to glory has only just begun 
 This Wednesday, February 23, the first leg of the UEFA Champions League round of 16 concluded, in which we saw very interesting matches and some very disappointing ones. 
The day of the round of 16 kicked off with the match with the greatest expectation, PSG vs. Real Madrid. This duel gave a lot to talk about and the fans were very excited, seeing Messi against his biggest rival, Mbappe against his future team? and Keylor Navas against the team with which he won 3 Champions Leagues were factors that made everyone expect a great game in which both teams created chances and there were many goals and emotions. Unfortunately, this was not the case, and what we saw was a Real Madrid completely outmatched, defending the entire game and a Paris that never tired of failing, which could easily have scored 3 goals if it weren't for the great performance of Militao, Alaba and Courtois.  
That same day we saw Manchester City crush Sporting Lisbon on the road with a great 5-0 result, the goals were scored by Riyad Mahrez 7′, Bernardo Silva 17′, 44′, Phil Foden 32′ and Raheem Sterling 58', this game did not have the expectations as high as the one in Madrid, but in my opinion, it was more exciting than this one. 
On Wednesday, February 16, we saw two very interesting matches, Inter vs Liverpool and Salzburg vs Bayern, the latter surprised everyone, because despite the fact that Bayern was the clear favourite, it seemed that the Austrians would take the match, until in the 90th minute, Kingsley Coman scored the game-tying goal and left things open for the second leg. 
Inter vs Liverpool was another story, Kloop's men arrived as favorites for this match due to the poor results that Inter was having in Serie A, where they lost the lead despite the advantage they had. Despite this, no one gave the Italians up for dead and it was expected to be a good game. In the end the score was 2-0 in favor of Liverpool due to goals from the Brazilian Roberto Firmino 75′ and the Egyptian Mohamed Salah 83′. 
A week later Chelsea faced Lile, ending in a score of 2-0 in favor of the blues, due to a goal by Kai Havertz 8′ and by the American Christian Pulisic 63′, that same day Villarreal also faced the Juventus of Turin, the score of this match ended 1-1 with goals from Dušan Vlahović 1′ by Juventus and Dani Parejo 66′ by Villarreal. 
The first legs of the knockout stages of the Champions League concluded with the duels between Atletico de Madrid vs. Manchester United and Benfica vs. Ajax, both duels ended in a draw, the first of which ended in a 1-1 draw, due to goals from Joao Felix. 7′ and Anthony Elanga 80′, and the second in a tie at 2, by goals from Dusan Tadic 18′, Sebastian Haller 26′ (OG), Sebastian Haller 29′ and Roman Yaremchuck 72′. 
The dates for the second leg of the Champions League will be as follows: 
Tuesday, March 8, 3:00 p.m. 
Bayern Munich vs FC Salzburg 
Liverpool vs. Inter Milan 
Wednesday, March 9, 3:00 p.m. 
Real Madrid vs PSG 
Manchester City vs Sporting CP 
Tuesday, March 15, 4:00 p.m. 
Manchester United vs Atletico Madrid 
Ajax vs. Benfica 
Wednesday, March 16, 4:00 p.m. 
Juventus vs. Villarreal 
Lille-Chelsea 
Leave a Comment