MLB World Series Recap: Astros Take 2nd World Series in 6 Years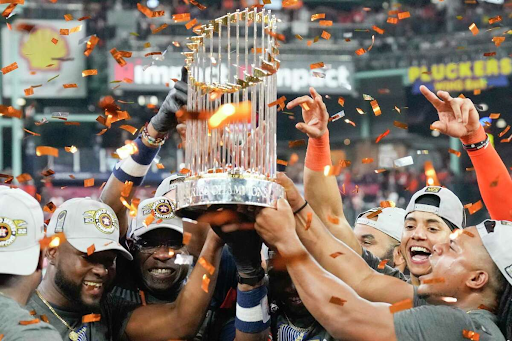 The MLB World Series finished last week on Saturday, with the Houston Astros beating the Philadelphia Phillies. The Astros put on quite a show, and if you missed it, here is a recap.
Game One kicked off in Houston, with the Phillies surprising everyone by bouncing back from a score of 5-0 (Houston) to win 6-5 (Philadelphia). In Game Two, the Astros evened out the best-of-seven series, backed by Astros' starting pitcher Framber Valdez, who threw six innings with nine strikeouts.
Then the series moved to Philadelphia, as the Phillies looked to take back the lead. In Game Three, the Phillies bats were energized, and they hit five home runs, all off Astros starting pitcher Lance McCullers, a new record. In Game Four, the Astros came out strong, scoring five runs in the 5th inning, and their pitchers threw a combined no-hitter.
What is a no-hitter? The definition is in the name; it's when one or more pitchers on a team don't allow the other team to get a single hit, not including walks and errors. In Game four, four Houston Astros pitchers threw a combined no-hitter, led by Christian Javier, Bryan Abreu, Rafael Montero, and closed out by Ryan Pressly. It was historic because it was only the second no-hitter in World Series history, following Don Larsen's perfect game in 1956.
In a pivotal Game Five of the series, Hall of Fame pitcher and ace of the Houston Astros, Justin Verlander, who historically is horrible in the Fall Classic, put together a solid start. Both offenses were struggling to put some runs on the scoreboard, but a solo home run by all-star rookie Jeremy Pena in the 4th inning ended up deciding Game Five.
The series shifted to Houston for Game Six, and potentially Game 7, where the Astros looked to have a great chance to win another World Series. According to Fox Sports, Astros Starter Framber Valdez said before Game Six, "I think last year, my emotions got the better of me during the World Series," Valdez said on the eve of Saturday's start. "I think the key for this year is just continue doing what I've been doing, try not to let the game get away from me, and I think we'll get good results there."
Game Six ended up being the final game of the 2022 season; the Houston Astros won the World Series. The final score was 4-1, Houston. The Phillies starting pitcher Zack Wheeler pitched great, but Astros starter Framber Valdez was even better. It was a 6th inning rally by the Houston offense that won the Astros the championship. The big hit came from Astros all-star Yordan Alvarez when he blasted off for a game deciding three-run home run in the 6th inning. 
View Comments (1)