The Cataclysmic Surge of Hurricane Ian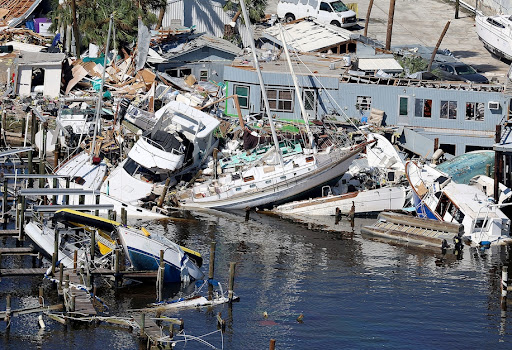 It was hurricane season once again in the Atlantic and there was a new destructive storm raging. Hurricane Ian had been on a destructive path particularly hitting Cuba and Florida as its target. Ian started forming on September 23rd and ended on October 2nd. With the storm ranging from a Category of 3 to 4, it was a huge threat to anyone and anything in its way.
Ian has been ranked and said to be one of the most catastrophic hurricanes in U.S history, just under hurricanes such as Hurricane Katrina and Hurricane Ida. 
Soon after Hurricane Fiona hit Cuba a new hurricane named Ian emerged in the Atlantic. Before Ian arrived it was forecasted to produce 16 inches of rain. Ian appeared in Cuba on September 27th as a Category 3 storm, this resulted in at least two deaths due to the harsh winds and rain. This storm also caused a nationwide blackout in Cuba. After passing through Cuba, Ian would start heading towards Florida and would make its landfall on September 28th as a Category 4 storm with winds reaching speeds of up to 150 mph. Preparing for the storm, Florida residents had either left for safety or boarded up, ready to face the storm head-on. Even through all the effort, Ian would show no mercy and would leave a devastating impact on Florida. 
 Thousands of people were left homeless, buildings were destroyed and 11 million people were left without power. The power outage also led to the absence of water and food as freezers, refrigerators weren't working. Fortunately, most of Cuba has now restored power. After crashing through Cuba, Ian made its way toward Florida. With its strong winds, Ian left major flooding and destruction. Areas such as Fort Myers and Cape Coral were left heavily flooded. Much like Cuba, Florida also faced a blackout leaving 2.5 million people without power. Ian continued this trend throughout Florida and made its way up the east coast. Ian finally slowed down as it swerved away and left heavy and light rain in states such as Georgia, North Carolina, South Carolina, and Virginia. Even though it slowed down, huge rainfall and minor flooding has occurred. 
Hurricane Ian finally finished its wrath of destruction and it resulted in over 100 deaths and millions of buildings and properties were damaged. According to Forbes, an estimated 41 to 71 billion dollars in damages were recorded.
Leave a Comment