An Update on Iran's Ongoing Protests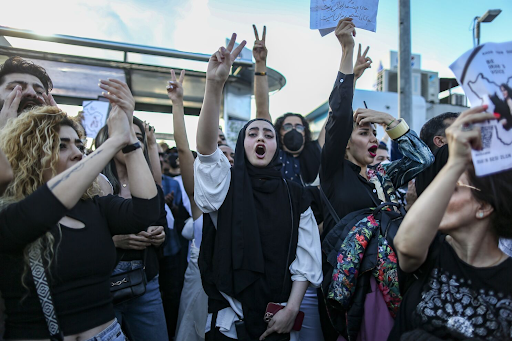 Millions of Iranian citizens have been outraged by the murder of Mahsa Amini, who was detained by Iran's "morality police" for breaking Iran's forced veiling laws that have been in place since the 1979-1981 iranian revolution. In the 40 years since the laws have been put in place, many have been affected. Protests began after Amini's death in custody at the end of September.
According to Tracy Shelton at ABC news, "Mahsa Amini, 22, was arrested in Tehran for wearing 'unsuitable attire' and died in custody three days later. Iran is one of only two countries in the world that require women to cover their hair by law." The government has not accepted responsibility for her death; "The iranian government has not yet apologized, or accepted responsibility for the beatings which eventually led to her slipping into a coma and dying in a Tehran Iran hospital. According to the Jerusalem Post,  her official cause of death was stated as "sudden heart failure" but the conditions surrounding her death were suspicious.
The citizens protesting the death of Amini are unique in Iran's history. According to euronews.com,"'Women started this wave of protest,' says Ramyar Hassani, spokesman for the Hengaw Organisation for Human Rights. 'But everyone else joined. Women and men are shoulder-to-shoulder. All of Iran is united.'" The protestors are facing punishment, and even death. This does not stop the people from standing up for thier human rights. [Amini's] death touched a nerve in the Islamic Republic, with prominent public figures coming out in support of the movement…The protests have since coalesced around a range of grievances with the authoritarian regime."
The government has responded with severe punishments up to and including exectuion for protesting, naming them as "riots". According to aljazeera.com, the first protestor was executed this morning; "The man executed was identified on Thursday by the official news website of the Iranian judiciary as Mohsen Shekari. Shekari received his preliminary death sentence on November 20, and it was carried out on Thursday morning shortly after being upheld by the country's Supreme Court."
Leave a Comment