Can Joe Burrow Eclipse Patrick Mahomes?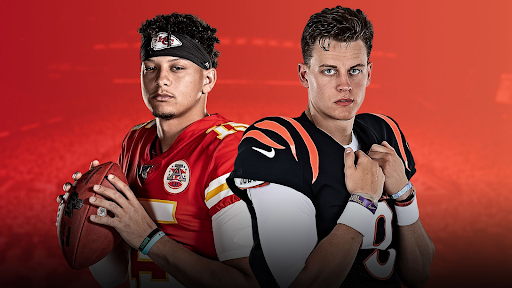 The 2022-23 NFL regular season has been one for the ages. This season was filled with  surprises, breakout stars, and up-and-coming teams. The excitement and drama have been boiled down to the final four teams. 
The Cincinnati Bengals play the Kansas City Chiefs at Arrowhead Stadium this weekend. In a rematch of last year's AFC championship game, the players headlighting this game are Patrick Mahomes, and Joe Burrow. Both Quarterbacks are coming off impressive wins, Burrows's two-touchdown game against the favored Bills was not only great, but he also picked apart Buffalo's defense with three missing O-linemen. Buffalo was most people's Super Bowl favorite, and seeing them get run over at home in that fashion shows that the Bengals want to avenge last year's super bowl loss. The Kansa city game showcased why Mahomes is the best Quarterback in the game. Dominant for most of the first quarter against the Jaguars, it seemed like the chiefs were going to roll their way into the Championship game. Mahomes then suffered a nasty high ankle sprain late in the first quarter, and it greatly affected him throughout the game. But with the ankle sprain, he was still as dominant as ever and reports are saying he will be fine this game. But this game is not about whether Mahomes' ankle holds up, it's about if Burrow wins this game, is he the top Quarterback in the AFC? 
I think Mahomes is the cremé of the cremé, the gold standard of a Quarterback. In terms of talent, he is arguably the greatest talent the NFL has ever seen. In his first 5 NFL seasons, he's been to two Super Bowls, won an MVP,  four straight championship games, and broke records. You would think no one can eclipse what he's done so far, but that's far from the truth. Joe Burrow has transformed the Bengals, and with his success, they completed the fastest rebuild in NFL history. Before Burrow started full-time, the Bengals were awful. They were a tanking team, until last year. Joe Burrow last year brought the Bengals to their first Super Bowl since the 80s. What made it more surprising was no one in America gave them a chance because the team was very young and had no experience. They ultimately lost in the Super Bowl to the Rams, but they told the world that Joe Burrow has arrived, which leads us to today's present day. If Burrow and the Bengals beat Mahomes and the Chiefs, he would be undefeated when playing the Chiefs with a 4-0 record, you can argue that he's outplayed Patrick in all three matchups they played.  
You may be wondering why I'm so big on Burrow. Well, the swagger he plays with is just captivating. He can pick apart a defense with ease with his precise accuracy. What makes this so impressive is he is doing this without ever having a good offensive line. This year, he leads the Bengals to a potential Super Bowl birth with three missing starters in the O line.  With all the inconsistency in the Offensive line, he reminds me of Tom Brady in terms of how calm he is in the pocket. Joe never tries to play hero ball, he just takes what play gives him. Whoever may be reading this may call me crazy for saying Mahomes is potentially second to Burrow, but it's not all that wild. If Burrow beats Mahomes this weekend and wins the Superbowl, he is going to be matched up in the Super Bowl and he's going to have a record that you can't ignore.
This has the potential to be a Brady/Manning rivalry with a lot of drama at stake, this Bengals/ Chiefs rivalry will carry the AFC for years to come.  
View Comments(1)