Sometimes there's nothing better to do than curl up with a cozy book. If you're struggling to find the perfect book to read this October, the Wakefield Library has a display packed full of spooky reads.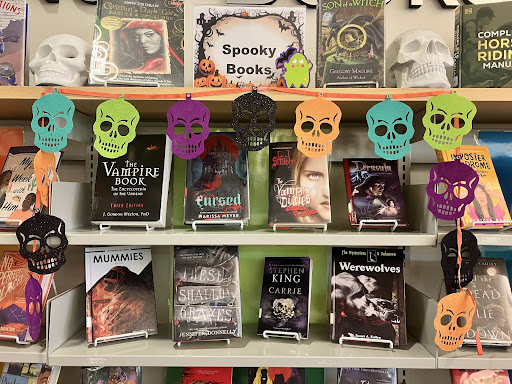 Here are four of the chilling options:
Carrie – Stephen King
If you're a fan of supernatural horror, this book is perfect for you. Carrie is a cult classic horror novel by Stephen King. This book is extremely popular with a 3.98 stars on Goodreads. It follows unpopular high schooler Carrie White who discovers she has telekinetic powers through a series of disastrous events. The book is highly praised in an archived 1974 review of the book from the Washington Post, saying that "[Stephen] King writes with the kind of surety normally associated only with veteran writers. This mixture of science fiction, the occult, secondary school sociology, kids good and bad and genetics turns out to be an extraordinary mixture." 
You can also enjoy the movie adaptation starring Sissy Spacek on Halloween night.
Gothic! – Deborah Noyes
Short story lovers will definitely enjoy this collection of 10 short stories all centered around horror. While the assorted stories are all unique and interesting in their own right, the entire collection is based around the spooky genre perfect for Halloween: Gothic literature. Several renowned authors feature in this assortment, including Neil Gaiman and Gregory Maguire. The collection has a 3.5 review on Goodreads and will assuredly ring a bell with fans of Mary Shelley and Edgar Allen Poe.
The Haunting of Hill House
The Haunting of Hill House is a Gothic horror novel that has been highly acclaimed for over 60 years. It tells the story of Dr. John Montague, who is searching for supernatural evidence in a mysterious, secluded mansion. While in the Hill House, Dr. Montague and his guests encounter many chilling paranormal experiences and start to question what is truly happening. The book is highly commended, being a finalist for the National Book Award and authors Carmen Maria Machado and Neil Gaiman naming it the scariest fiction book they had ever read.
The Island – Natasha Preston
When teenagers Liam, James, Will, Ava, Harper, and Paisley enter Jagged Island, an elite amusement park, the last thing they were expecting was to enter a nightmare. Everything about the island seems too good to be true, because it is. While at first the teens' biggest issue is trying to do every exciting activity in only a weekend, it becomes horrifying very fast when they realize they might not survive their stay on the island. Kirkus Reviews issues a highly positive review, saying "Preston displays her usual exceptional pacing, with murderous delight sprinkled throughout the plot. The author effectively presents a mystery littered with clues, including red herrings, shown through the lens of a paranoid protagonist."