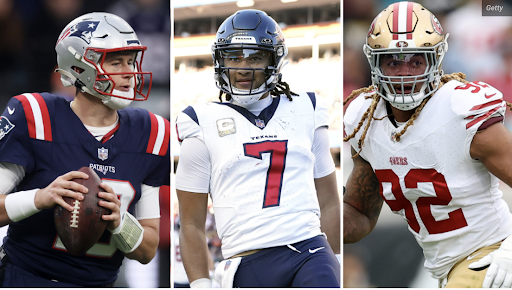 Now that week 10 has concluded, here's an update on some teams in the NFL.
To kick start week 10 the (2-7) Chicago Bears took on the (1-7) Carolina Panthers last Thursday Night. The game was low scoring and anticlimactic with the final score being 16-13 Bears, with only 1 touchdown being scored by each team.
On Saturday, the (4-5) Indianapolis Colts and the (2-7) New England Patriots traveled to Frankfurt stadium in Germany for the second game in Germany this year. The game was another low action thriller with the Colts winning 10-6, and Pats fans chanting, "Fire Bill Belichick!".
Sunday afternoon was something special, 5 games ended in walk off field goal wins, the most in one day in NFL history. The 2 most notable games on Sunday afternoon were the (5-3) Cleveland Browns vs the (7-2) Baltimore Ravens and the (4-4) Houston Texans vs (5-3) Cincinnati Bengals. The Browns vs Ravens was a high action and high scoring game with exceptional QB play on both sides and a good running attack on both ends as well. The game ended 33-31 to the Browns, with Browns' kicker Dustin Hopkins drilling a walk off 40 yard field goal for the win. The Bengals vs The Texans was an offensive onslaught with both Joe Burrow and CJ Stroud passing for over 300 yards each. The game ended with a go-ahead field goal from 38 yards out, kicked by Matt Ammendola to seal the 30-27 win for the Texans.
Sunday night gave us a low scoring but intense game with the (4,4) New York Jets vs the (4,5) Las Vegas Raiders. The offense was lacking for both sides, with only 1 touchdown being scored all game. The game ended 16-12 to the Raiders, with a failed hail mary pass by Jets QB Zach Wilson.
Monday night football gave us an exciting game to end off Week 10, when the (5-4) Buffalo Bills faced off against the (3-5) Denver Broncos in Buffalo, with the Broncos pulling off a major upset, beating the Bills 24-22 with a chip shot 36 yard field goal for the win kicked by Broncos kicker Will Lutz.
As far as the last half of the season, the team to watch is the Miami Dolphins because they have the best Offense in the League.