Volleyball Season Recap
The Wakefield Varsity Volleyball Team has seen its share of losses this season, the official record was 3 wins and 12 losses. According to these warriors, they had their most successful year to date. Volleyball is not just about winning or losing games; it is about building relationships that last well past high school.
"I've made really close bonds through Wakefield volleyball; I met my best friend Mia Field, and my other best friend Hailey Finlay. The coaches have all been fantastic and taught me so much. I am now a better player and person because of them," said senior co-captain Erika Zelaya.
When watching these ladies play it is obvious that each time they attempt to dive, bump, set, or spike, they stay positive. They dig deep, stay connected, and work as a cohesive unit on the court. Players huddle, hug, high five, and have each others backs no matter what the score board says. "Volleyball is a great program to meet new people, learn about hard work, and go through something as a team" said senior McKaylee Reavis.
These warriors have grit. Some of the memorable moments of the season include their games in October against the Lancers, Jaguars, and Majors.
Coming off a tough loss against the Yorktown Patriots, these ladies bounced back to a strong win against the Lee Lancers on Monday, October 20th. Zelaya said this of the win after 10 losses in a row, "we had difficulty when it came to our energy, but this game was amazing. With full team effort, diving on the floor, running off the court to get a shanked ball, and jumping up no matter how tired we were, we pulled through to win all three matches 26-24, 26-24, and 25-20." Senior Mia Field said, "I'm so impressed with how well we all came together as a team that day. We had a difficult season, but I think this was an important game."
Senior night was bittersweet for these ladies. Most of the team have known each other since middle school. This was truly the end of a significant part of these players lives. During this special game, the underclassmen hung streamers, made posters, and showed their love for the squad. In the end, they fell short to the the Falls Church Jaguars. Senior Casey McClintick had this to say about the night, "Senior night was phenomenal. Our underclassmen went above and beyond what I could have ever imagined. In a couple of years, it won't matter whether or not we lost the game."  All of the seniors loved the having the special night dedicated to them. "The girls did such a great job with decorations and gifts. A group of superfans came and made signs and the freshman team did as well. It was amazing just to have people come out and celebrate us and support the team," said Zelaya.
It seems that the love did pay off in the end. The crew came together at the final game of the season against the Mount Vernon Majors, and won 3-1. Winning the final game of the season was nice, but McClintick said this of the final game, "What matters is that we know how much our team cares about us."
These ladies stick together on the floor, no matter what is on the score board.
View Comments (1)
About the Contributor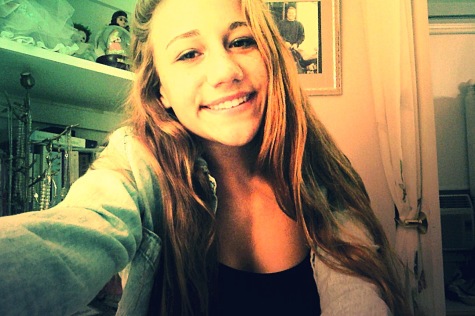 Olivia Ceccato '16, Arts and Entertainment Co-Editor
I am a Junior here at Wakefield High School. I play on the girl's varsity basketball team. I enjoy movies, sports, and being with friends/family. I have...