Basketball Is Here! You Have To See These Games!
Get ready for basketball season! Last year was a strong season for the basketball teams. The boys' team went to the state tournament for the second time in 2 years. The girls made it to the first round of the regional tournament! With practices and conditioning starting in early September this year, the teams have been determined and working hard towards their championship goals since the beginning of school. Official tryouts were held on November 11, soon after the teams were decided.
There are some games which just can't be missed this year. The season openers for one. This season the girls team will participate in the Tip-off Tourney at West Springfield HS on December 4-5. Meanwhile the boys will be traveling to T.C. Williams for their annual game on Friday, December 5th. Everyone is anticipating that high energy face off. "I want to end my senior year with a bang, I want to make sure people remember the Warriors!" said senior Alex Sentayhu.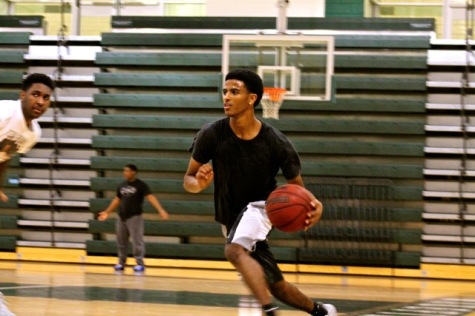 The girls square off against T.C. on Wakefield's court on Tuesday, December 9th. The boys first homegame is that Friday, December 12th against JEB Stuart. Both home games NEED all the support of #warriornation.
Other games you will be sorry that you missed will be December 26-29; the boys basketball team will hold their annual George Long Holiday Tournament. The girls basketball team will be attending the Falls Church School Holiday Tournament December 27-December 30. These tournaments are exciting and loud!
Make sure you're also at Washington-Lee on January 16 as both of our varsity teams travel there to play this highly anticipated cross town rival! Everybody, get ready to jump out of your seats for the 2014-2015 basketball season as we lead our teams to victory!
Leave a Comment