Rebecca Takes To The Rink At Sunrise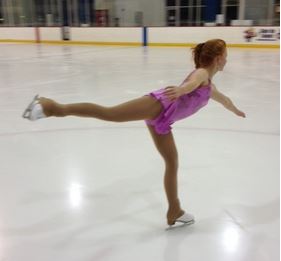 Wakefield students cultivate many talents in and outside of school. Fiery red haired junior, Rebecca Weber, is a competitive ice skater.
Becca's been skating since she was three years old, and has been doing it competitively for the past three years. When asked what got her into ice skating, she said, "my parents wanted me to play a sport and I wanted to independently develop a unique skill." Her cousin also influenced her to skate. She said, "I admire my cousin as a skater because she was a synchronized skater; she competed a lot and inspired me to take up skating."
She says that skating requires passion, practice, and patience. Becca practices three to five days a week for one to two hours after school, and an hour before school on Wednesdays and Fridays; that means 5:30 a.m. "You never accomplish anything your first try," she said.
One of Becca's happiest moments on the ice is when she accomplishes a difficult jump; right now it is the loop jump. The loop jump involves jumping in the air, doing a full rotation and then landing…backwards. Backwards!
All that hard work is certainly paying off! At the moment, Becca is in the pre-juvenile group for Moves in the Field. Moves in the Field is a test that evaluates your control, quality and extension. It's one of the higher levels to test in U.S. Figure Skating. When asked how she prepares for such an important test, she said, "I take the moves required and practice them repeatedly until they become second nature. I spend extra time with my coach and make sure the moves are perfect…it can get tedious at times, but if you work hard enough, all your time, money and effort pays off."