Marching Warriors Make Top Ten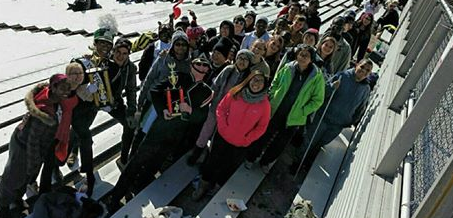 The Marching Warriors Marched their way to Wakefield at 3:30 am  on November 8th to pack the bus and head to Allentown, PA for the USBands National Championships. "Oh the joys of Marching Band – You start the season in scorching – don't want to be outside heat, and end the season in teeth shattering cold!" said Mr. d'Alelio while explaining the feeling being up so early that morning.
Wakefield's Marching band took the field at 8:15 in the morning. Lydia Elias, saxophone player for the Marching Band said, "as I looked up at the stands, the high bleachers, and the press box up in the sky, I could not believe that we were playing that early." The Marching Warriors played their hearts out, for what Mr. D described as  "clearly the absolute best performance of the year…and actually the strongest performance in my 13 years here at Wakefield."
The Marching Band was the 2nd out of 17 bands in Group 1 (bands with less than 40 people) to perform. There were bands there from Massachusetts, New Jersey, New York, Pennsylvania, Maryland, and Virginia in their class. This season they won the first contest of the season, and took the Best Effect Caption at the second. This set the stage for their success at National Championships.
This year, at the USBands National Championships, the Marching Warriors Placed 10th cracking the top 10 for the first time with a score of 89.325 (a New Wakefield record  high score). "I focused more on having fun instead of worrying about [the] score"  said junior and flute/piccolo player Elouisa Cardano. They also received the Dinkles Spirit of Band Award which acknowledges the band whose students and parents best exemplify School Pride, Friendship, Creativity, Camaraderie and Good Sportsmanship; these traits are not out of the ordinary for Wakefield students.
Aaron Taylor sophomore and bass drum 1 said, "it was pretty interesting getting to watch a band from Texas…There were bands from everywhere! Two cadets were there handing out the trophies…Great!" Along with their performance, the Marching Warriors were able to watch Towson University and Indiana University of Pennsylvania perform. "It was a day full of the Marching Arts" said Mr. D.
"I am exhausted, yet exhilarated and excited for what may lay a head in the seasons to come" said Mr. D while reflecting on the near future. He said, "with my great staff, Catrina Tangchittsumran and Matt Halligan, and awesome band parents, that no longer seems like an unachievable goal."
What a Journey it has been! Mr. D said, "it proved to the kids that Yes, Wakefield can succeed, we can set our sights higher, there is no limit..only the limit you place on ourselves."