Girl Up Club Has Big Plans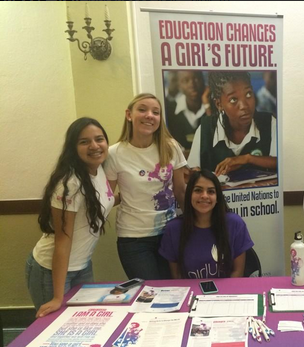 There is a club at Wakefield dedicated to improving the lives of girls all over the world, Girl Up Club. Ms. Cameron is the club sponsor and sophomore Rebecca Bean is the Club President.
This chapter of the club was started to bring awareness to the fact that around the world, adolescent girls in developing countries are suffering from a lack of education. As sophomore Rebecca Bean puts it, "These girls aren't the problem, they're the solution."
Wakefield's Girl Up Club was started by Rebecca Bean because of her interest in raising awareness of the wide scale problem of inequality and poverty that the women in these developing countries face every day. Keeping these ladies in school could change the course of their lives, as numerous studies have shown that improved education correlates with an improved quality of life.  By turning her passion into action, Rebecca Bean hopes to use the club to raise awareness for the struggles these girls still face today.
This school year Girl Up Club has big plans, with an overall goal to raise money for these young women's education. Plans including involving the school in numerous events to increase understanding of the conditions faced by these young women and ways that we can help them. Some of the events that have already taken place include a screening of Girl Rising in November. In December, a fundraising event was held with Ten Thousand Villages, an organization that helps artisans in developing countries receive income for their work.
The school is fortunate to be located so close to the Girl Up headquarters in DC, and Becca has plans to use this to the club's advantage. The third annual Girl Up leadership summit is being held in June, which holds three days of speakers, skill-based workshops, and advocacy programs on Capitol Hill. Girl Up also has plans to hold numerous community service activities, fundraisers (Becca hinted about a Zumba-thon), as well as many other activities to help inform people about the plight these girls face and ways they can be aided.
Girl Up is always looking for new members and Becca describes the ideal member as a smart, passionate person who is interested in global affairs. Meetings are once a month.
Interested? Girl Up Club is running the Basketball concession stand this Thursday. Stop in to chat about upcoming events.