Love Your Body Week Recap
Wakefield's first ever "Love Your Body Week" was January 13th-16th. There was a different activity for each day of the week during all lunches in the Town Hall. This week was a part of my senior project which is exploring how media depicts women and what affects it has on our body image and self-esteem.
Purpose: To promote positive body image and reject media's standard's of beauty.
Tuesday students and staff had the chance to write what they think is an example of beauty on a "Beauty Is…" Banner which is still hanging above Town Hall. Unique, Different, Caring and Courage were popular answers.
Wednesday was #Love YourSelfie Day.  The purpose of this day was to be proud of the way you look framed in a giant Instagram frame. Students and teachers posed in the frame and pictures were posted on social media with the hashtag. Everyone seemed to have a lot of fun with it.
Thursday was called "Heart Your Parts" Day. Warriors wrote their favorite part of themselves on a paper heart and decorated the windows in Town Hall. Most teens are quickly able to say whats wrong with them, and what we should fix that. So, this day was to take a minute and say something we love about ourselves.
Friday was "Rip it Up" Day. The media constantly shames us for not keeping up with their beauty standards; we aren't skinny enough, or buff enough, so on this day we created a collage that showed media's limiting description of beauty. Students also wrote on a piece of paper something personal that media frowns upon and ripped it up.
This week was very important because media is prevalent in our lives; too many times we let it dictate the way we view ourselves and others. It is crucial to know what and what not to absorb from the media.
Media is an amazing tool, but when used wrong it can have very severe affects. Media's limiting depiction of women is not new; since the 1950's women have been forced into roles of either the "housewife" or the "sex object."
We, as women, are able to fight and demand more equality, like that of realistic representation in the media. The first step to change is awareness and education. Visit these websites if you are interested in this topic, they have been a great guide for me: The Representation Project and See Jane
About the Writer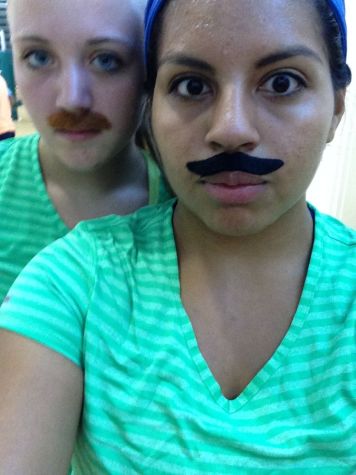 Erika Zelaya '15, Co-Editor In Chief
Erika is a senior this year and this will be her second year on The Chieftain staff. She is Co-Vice president of the Senior Class and captain of the Varsity...