Five Things To Do On Valentine's Day: Singles Edition
Valentines day is this Saturday, February 14th! Usually people spend this day with their significant other, but what if you don't have one? There's no reason not to celebrate love or have fun on this day! Check out this list of things to do on V-day so that you can have a great night!
Plan a movie night. Gather your single friends and throw a movie marathon of funny movies, romantic movies or horror movies (for the non-romantics). Don't forget to have snacks; everyone loves food. It'll make the night even better. Have a great time with friends while watching movies.
Game night! Invite your friends over and host a game night. You guys can play video games, board games, or charades. Apples to Apples is a fun game to play, Cards Against Humanity is a great spin off, too. My personal favorite game to play is Heads Up, it is an iPhone app that operates like charades. Games are great and allows everyone to talk and interact; there won't be a dull moment.
Go out to eat with friends. Go grab a bite with a couple of friends, it can be somewhere fancy or casual. I recommend going anywhere that sells milkshakes; Good Stuff and Bob and Edith's have great milkshakes. An order of fries and a milkshake will always be good time.
Go trampolining! Flight is a great trampoline park in Springfield, Va. It's a huge room filled with trampolines. There's dodge ball, foam pit, and trampoline ramps. It's $15 a person for 1 hour of jumping. It's really fun and you'll definitely have a great time!
Treat yourself! Let's say you're not really up to going out; stay in! Take a day for yourself and relax; get a bath bomb from Lush and draw a bath for yourself, or get comfy in your PJs and watch Netflix. (Check out Taylor White's Top Ten Shows To Watch On Netflix). If you don't feel like doing anything, you can just take a long nap or go to bed early. Sleep is the solution for all your troubles; it let's you forget about everything for just a little while.
Whatever you end up doing on Valentine's day just remember to have fun and spend time with people you care about. Valentine's day is about love, you don't necessarily have to celebrate love with a significant other, it can be anyone you care about like friends or family. Have a lovely Valentines day!
View Comments (1)
About the Contributor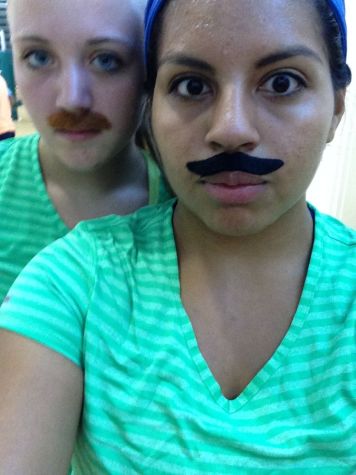 Erika Zelaya '15, Co-Editor In Chief
Erika is a senior this year and this will be her second year on The Chieftain staff. She is Co-Vice president of the Senior Class and captain of the Varsity...