Arlington's Best Burger Place!
Just recently, I experienced Elevation Burger for the first time. They just received a Best of Arlington award, so I wanted to give them a chance.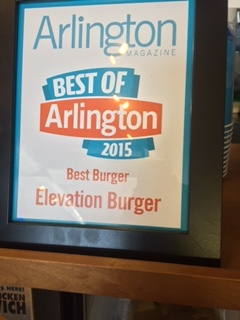 It seemed like a chain outside, but once I stepped in, I noticed that it was a very family oriented place. Since it is close to middle and high schools, I saw many kids walking around in the stores nearby. It did not feel or taste like a fast food restaurant, I wasn't consumed with the smell of grease when I got there. Everything: the decor, the food, the menu all seemed very fresh.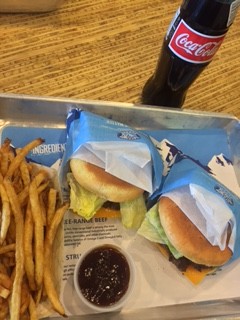 The menu has a staggering variety of options, one option is to create your own burger, so the choices are really limitless. I ordered two burgers with American cheese, tomatoes, and lettuce so I kept it pretty traditional. I did liven things up with a side of barbecue sauce and fries. I expected it to be somewhat of a wait; it was a nice surprise when it only took about 10 minutes. It tasted really good, it reminded me of the barbeques I had over the summer with my family. Nice! A summer moment in the middle of winter.
My favorite part of this restaurant was actually tasting the burger. Not only did it taste extremely good, it was actually inexpensive. My entire meal was $9 ,and I saw the employees make it from start to finish. It helped to make the burger fresh in each layer of each bite. The fries were not the best; they were too thin. But overall, it is a nice place to go get a burger.
If you haven't had Elevation Burger yet, and want to eat a burger which tastes like it is fresh off the grill, check it out.
View Comments (4)