Freshman Girls Basketball: The Perfect Season
The Freshman Girls Basketball Team accomplished an amazing feat this season, finishing with a perfect 16-0 record. Though that is stunning in itself, the most amazing part of their perfect season is that they ended with only 6 girls! Coach Paul Greenfield mentored Jami Tham, Lindsay Kelly, Kaiyah Fluitt, Zoe Beardsley, Kayla Bankhead, and Delina Yibrah through this stellar season with the help of his daughter, Danielle.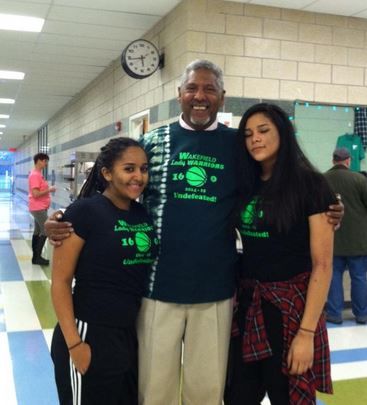 The Freshman Girls season started off with quick back to back victories over McLean and T.C. Williams both ended with a score of 33-21, then a whopping 55-5 victory over JEB Stuart. After the opening three wins, the team didn't slow down, cruising through the rest of the season with memorable victories which included a 78-10 win over Thomas Jefferson, and a 79-13 victory over Lee. "We just found out how it felt to win and wanted to keep that feeling," said Guard Lindsay Kelly.
According to Frank Hancock, Wakefield's very own statistician and part time announcer, the last time our Freshman Girls Team was undefeated was over a decade ago; it was the 03-04 season with a 10 girl roster.
In his second year coaching Wakefield's Freshman Basketball team, Coach Greenfield has learned the hardest thing is, "knowing that it is a defined period of time. Unlike JV and Varsity, who could have girls for 3 or even 4 years, Freshman basketball only has one year to make a statement." Of the team's success, he simply said, "the girls worked real hard together." Greenfield has coached Wakefield's Golf team for 7 years, and Wakefield's JV Softball team for 2 years; his one piece of advice for all athletes is, "learn to trust your instincts."
One factor that helped the team develop such chemistry was that they were close friends aside from basketball. "We all understand each other on and off the court," said Forward Jami Tham. The team bond definitely showed in their numbers; these rising players won their games by an average of 36.3 points.
Congratulations to the coach, players, and the families!