Super Student Athlete: Madeline Brophy
DISCLAIMER: This article was written before Madeline became a member of the Wakefield Chieftain. After this interview she became more interested in the school newspaper, joined the staff, and eventually took over the available Photography Editor position.
Four sports. Captain of three. 13 AP credits. Bonfires on Friday nights, mountain hikes on Saturdays, and Netflix on Sundays. Madeline Brophy '14 is one of our Super Student Athletes. Madeline and her family moved to Arlington from Jamestown, Rhode Island in August before her freshman year. Since moving, Madeline has been tearing it up on the field and in the classroom. She says "it's all about time management and organization."
At the beginning of the day, Madeline makes a checklist with everything that needs to be completed by sundown. Needless to say, sleep doesn't come that often for Madeline. When asked how she gets everything done, she responded, "there simply is not enough time in the day. In the end, usually the only solution is…minimal sleep, and lots of coffee." Breaks are rare in Madeline's life; there is no time for procrastination. She goes on to explain, "besides school and sports, I also am involved in a multitude of clubs and activities, which leaves me with a very limited amount of time. It is not an option to miss any practices or to skip a homework assignment; I'm the one that signed up for all these activities, so I have to follow through with them."
Madeline captains the field hockey, swim, and lacrosse teams and also runs indoor track. She is currently training for the marathon that she runs every spring. She does all this, while balancing six periods of Advanced Placement classes and heading the SGA. Most would think that because of hours of homework and captaining four sports, there would be no time left for friends. Somehow, Madeline manages to keep a steady relationship with her boyfriend, and spend quality time with her friends, "While I succeed in all my activities, I want to enjoy myself."
Madeline gives advice to aspiring Super Student Athletes, "be prepared because it will get difficult. Don't be afraid to ask for help. No one can be Superman; your coaches and teachers are always willing to help! Although it is hard at times, I have made so many long lasting friendships. I wouldn't trade those fun times and memories for anything."
Madeline's goal is to attend the University of Virginia or Stanford University on a Naval Reserves Officers Training Corps scholarship to study English. After graduating from college, Madeline plans to become a freelance photographer for National Geographic.
Leave a Comment
About the Contributor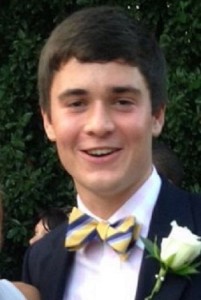 Leo Biette-Timmons '14, Sports Editor
Leo plays varsity baseball and swims. He is the captain of both, and has played each sport all four years of high school. Leo is the head Super Fan,...