Coach Ruck Slides into New Role as Baseball Head Coach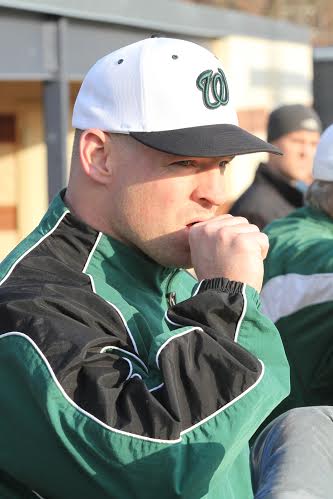 Coach Michael Ruck made the decision this past year to take over the role as Wakefield's Varsity Baseball Head Coach; he knew he had a project in front of him. In the early stages of his first season at Wakefield, the program is already beginning to show signs of great improvement.
Coach Ruck was the Head Coach at Wakefield's cross-county rival powerhouse, Yorktown, for the past five seasons before making the switch. At Yorktown, Ruck was twice named National District Coach of the Year. These honors were well earned, from Coach Ruck leading Yorktown to a single season school record of 21 wins in 2012 and two National District Championships.
Coach Ruck knew taking over Wakefield's Baseball program would be a definite challenge, but took hold of the opportunity and knows he can help to change the culture of baseball at Wakefield. He knew that he was coming from a powerhouse playoff contender to a team that had only won a handful of games over the past couple years, but Ruck enjoys the challenge of rebuilding a program.
Through the first handful of games of the 2015 season, the teams record does not display the changes taking place on the field, yet. The team's games include a 4-2 win over 6A powerhouse, Hayfield. There was also a heartbreaking loss to Coach Ruck's previous team, Yorktown, in which they led the game going into the sixth inning and ended up losing the lead late to fall 5-2.
Coach Ruck has constructed a very young team of mostly Freshmen and Sophomores, making them one of the youngest Varsity teams in the region, and even the state. With only one Senior on the team, the other eight starters on the field consist of four freshmen and four sophomores. He says a young team is critical to the building of a program, as these players will have at least three years together and form a special bond as a team.
Ruck emphasizes the importance of a strong work ethic, hustle, and self confidence. He also says the team is just looking to improve every game, and winning to him at this stage does not necessarily mean a win on their record. He believes that if they continue to improve each game and believe in themselves, then that is a personal win for the team.
Coach Ruck plans to continue to improve and to be a conference title contender in the very near future; the possibilities are endless.