Varsity Baseball Edges out Mount Vernon for Second Win
The Varsity Baseball team won their game last Wednesday, 4/22, against the Mount Vernon Majors with a final score of 4-3. The Warriors were able to pick up their second win of the season in a nail-biter down to the very last out; the winning pitcher, senior Patrick Girard, striking out the final batter to end the game.
Girard threw a complete game, only giving up four hits. Girard racked up 10 strikeouts with a total of 98 pitches, allowing two earned runs. This senior  was able to keep batters and base runners off balance, and even managed to pick off a base runner to end an early threat in the game.
While the Warriors were able to play a solid game in the field, their batting skills came alive and were the deciding factor in the game. The Warriors were able to explode for nine hits with sophomore Ethan Heckler leading the pack, who was 3-4 with two doubles. Freshman Colton Poythress (that's me!) had an RBI triple, while Jake Karton and sophomore Jaime Segui doubled. Patrick Girard and Joey Hatch had RBI singles and David Baron added an infield single.
The Warriors were able to execute crucial plays that helped them come out on top. The boys were able to perform a sacrifice squeeze which put a run up on the scoreboard, and then turned a double play which ended a late inning threat.
Wakefield was able to do something they haven't been able to in the majority of their prior games this season; they spread out their scoring over multiple innings. The Warriors have been able to get hot and score multiple runs in one inning, but in the past, they would then have trouble getting runs across in the other 6 innings. The winning strategy in this game was that they were able to spread out their runs over the span of the entire game.
Though only four runs crossed the plate, the Warriors had runners on base and in scoring position in every inning. They took the pressure off themselves by putting it on the visiting Majors. When the game was on the line in the bottom of the 7th with 2 outs and a man on second, Wakefield was able to perform as an experienced team and close the game out. These are the signs of the team maturing as a unit and not collapsing in important situations.
The Varsity team is looking to make a push in the second half of the season, one that will propel them into the playoffs.
You don't want to miss the May 1st game at Jeb Stuart High School, #warriornation!
Leave a Comment
About the Contributor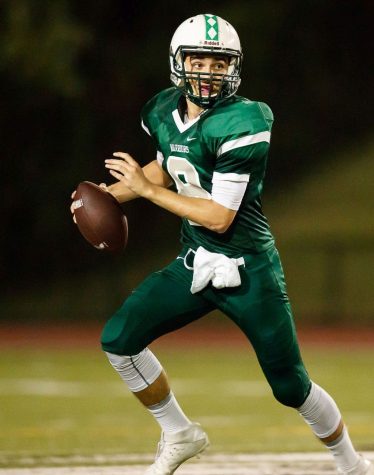 Colton Poythress '18, Staff Writer
Colton is a junior and entering his third year in journalism. He is one of three siblings to be on the school newspaper and enjoys writing about Wakefield...