The Love for Lacrosse
Stick skills Tuesdays. Wall Ball Wednesdays. These are the most important days for the lacrosse ladies. Lacrosse has started pre-season conditioning and fall clinics.
Experienced and non-experienced players are welcome. Third year varsity player, Nilofar Tokhi '15 says, "I love my team. I've been with them since freshmen year. They're very welcoming …like a big family, it's such a beautiful sport that needs to recognized." Some say it's dangerous, others say it's reckless. You truly have to come out and experience lacrosse to see what it feels like to be on this team.
"
It's such a beautiful sport that needs to be recognized."
It's an amazing sport built on dedication, teamwork and positive communication skills. Interested in joining? Coach Rebecca Gebhardt hosts Tuesday training, and is available to answer any questions new members may have. Wednesdays are run by upperclassmen Madeline Brophy, Helen Iraheta, Eve Giordano, and Jasmine Latney. Their combined expertise will make you feel at home on the field. The last fall clinic is Tuesday, October 29th. From that point forward, Winter conditioning begins. Many students don't join because they feel that a lot of equipment is required to join the team. All a person needs is a mouth guard, sneakers, a lacrosse stick, and goggles. Come join the Warriors, become part of this lasting lacrosse family!
Leave a Comment
About the Contributor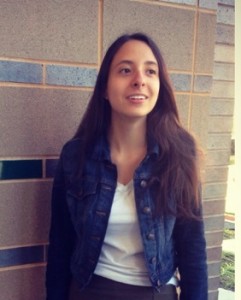 Stephanie Gomez '14, News Co-Editor
Lived in Arlington since 96. An easy-going, caring, lovable and enthusiastic human being. Batman lover, and 80's freak. I'm going wherever the wind takes...