Is It Done Yet? Now? Now? How About Now? The Gym
The Wakefield gym is getting closer and closer to completion, the big white "W" was placed last week. The floors have been sealed and shined. Ms. Deskins is one of the many Warriors who are pumped up. "The gym should be ready in November, and everyone is going to be really excited. Though it's important that the team keeps up the hard work", said the Director of Student Activities. Hard work shouldn't be a problem, as the Wakefield basketball team is renowned for its dedication and never-say-die attitude. It's been a slightly more turbulent ride for the gym compared with the rest of the school. Earlier in development, the gym experienced flooding, twice. Although the damage wasn't disastrous, the floor did need to be redone. Luckily, everything else stayed in top condition. This halt in readiness hasn't dampened the excitement for the new gym. "The superfan section will be amazing! I can't wait to lead fans in cheers on the new bleachers", said superfan organizer Leo Biette-Timmons '14. Most feel that as long as the gym is ready in time for Basketball season, everything will be fine. Last year was a hugely successful season for Warriors basketball, and it won't be easy to replicate that. It's clear that with all the hype around the new gym, and returning players, it should be another amazing year for the Warriors.
View Comments (1)
About the Contributor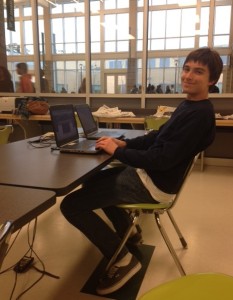 Jimmy McGuire '16, Staff Writer
I was born in Philadelphia, Pennsylvania.  I like sports, movies, and music.  I'm excited about being on the Chieftain.