The Results Are In: Students of the Month
Students of the Month are chosen by any adult staff member at Wakefield; each staff person can only choose one outstanding student each month. The beauty is that anyone can win this title! April's students of the month were announced on the first week in May. (You have to earn it for the work you completed in April, so the month has to be over before the decision is reached.)
Whether you consciously worked to be named as Student of the Month, or if you just happened to catch the eye of your teacher that month, being called out for excellence is always a nice feeling.
Junior Osmar Lopez said, "I feel good about being student of the month. I'm glad Ms. Hsu gave it to me."
Freshman Flavia Dominquez said, "It was a total surprise for me when I got the student of the month. I feel pretty good being the student of the month. I'm glad Mr. Chauvenet gave it to me."
Sophomore Quimari Mullins said, "I love Mrs. Attia and [I] am honored to have been chosen for student of the month. Thank you!"
Senior Kathy Perez-Montenegro said, "Student of the Month lets me know I'm doing my job as a student. It feels really nice!"
Give it your best shot in all of your classes for the last month of school and be named a Student of the Month!
The FINAL Student of the Month #photoOP will be June 3rd in Town Hall at 10:50am. This is right at the beginning of Warriors'Period so that Career Center students can be in the picture. Were you a student of the month and missed your #photoOP? Join us on Wednesday, June 3rd!
Leave a Comment
About the Contributor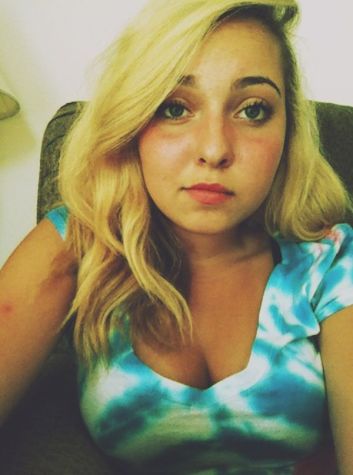 Cara Poythress '15, Feature Editor
This is Cara's second year on the Wakefield Chieftain staff. She enjoys beat poetry, hanging around out doors, and causing commotion with her pals. This...