JV Softball Senior Night
The JV softball players showed their ambition to improve their skills this season. Being on a team with two seniors is a great experience for the underclassmen. The seniors on the team gave guidance and support. The seniors chose to stay on JV to get more field time and mentor up and coming players.
This team has improved greatly as a whole. They have learned how to work with each other's flaws and make the flaws become strenghts. By doing so, it helped these ladies grow into, not only a better softball team, but into a softball family.
Even though they lost on senior night, the fans could tell these players were having a great time. They had some great plays and awesome outs as memories. After the game, the underclassmen showed Manacho andLlaguno how grateful they were to have played this amazing season with them.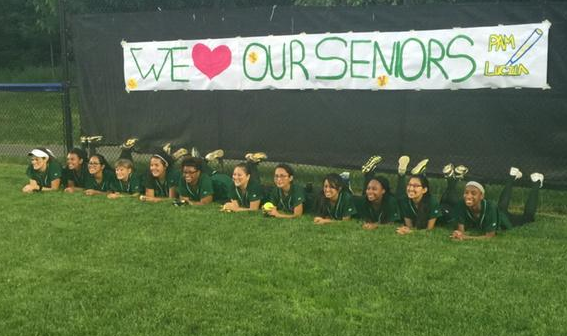 Pamela Menacho (pictured 7th from left, in the middle) said, "Senior night was [when]  it hit me that I was really about to graduate. I was very sad, man."
Lucila Llaguno (pictured to the right of Menacho) said, "the one thing I'll always remember from being a part of the softball team is the lifelong friendships I've made throughout the past two years."
Congrats on a season well played ladies.