The Results Are in: May And June Students of the Month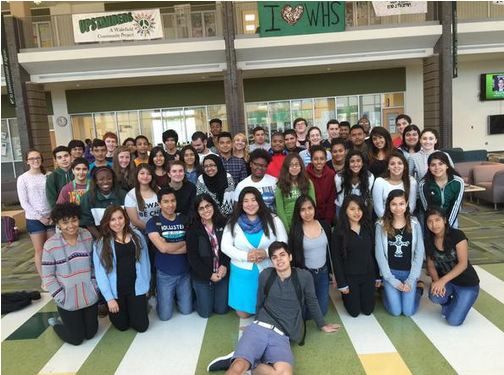 May and June Students of the Month were given certificates last week; they all joined together in Town Hall last Wednesday to commemorate this honor. The great thing about the award is that any adult can nominate a student to be Student of the Month. That means more opportunities for #warriornation to be recognized. It doesn't just have to be teachers, anyone who notices an outstanding act can nominate someone.
The staff here at The Chieftain asked the Students of the Month what it was like to receive the award, and what it meant to them, this is what they had to say:
Freshman Leslie Aranda said, "When I got student of the month I was in shock because there were many students that are also really great, so having this award was an honor."
Freshman Kayla Bankhed said, "When my teacher said that I made student of the month I was excited. I never thought I would for his class."
Freshman Ege Gunes said,"This was sehr gut!!"
Freshman Ainood Soliman said, "I feel very happy. My hard work paid off. Remember, you only fail when give up trying."
Sophomore Nishita Barua said, "My hard work paid off."
Sophomore Kathanne Wave said, I work really hard and it pays off because this is two months in a row and I'm really proud."
Junior Nishan Barua said, "Ms. Ruvel might be leaving but she will always have a space in mine and Yesun's heart. Ms. Ruvel is simply awesome."
Junior Sierra Cass said, "I think the student of the month certificate is a great award for us because it gives us motivation to continue doing well in school. I was really happy when I got it!"
Junior Matin Ennis said, "I think that student of the month is a great way of rewarding students for hard work."
Junior Mason Hemphill said, "Life is heartbreaking work to a staggering genius."
Junior Edras Garcia Lemus said, "Whatever you do, always save time to do homework; at the end you will thank the saved time."
Junior Brendan Novak said, "I would like to thank God, and Jesus too. Also my mom."
Junior William Pan said, "In the end, hard work always pays off."
Junior Yesun Teveensuren said, "Thank you Ms.Ruvel for nominating me as the student of the month. You helped me a lot. Thank you for everything."
Junior Julia Watson said, "I felt proud when my AP Spanish literature teacher told me I was student of the month for June. This is my last year taking Spanish and after 11 years of Spanish study this is a wonderful way to end the year. ¡Gracias Sra. Buzzi!
Senior Marwa Bahr said, I believe that student of the month is a nice reminder to students to see that their efforts are continuously being recognized."