The Wakefield Pantry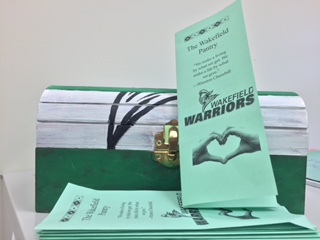 The Wakefield Pantry was created 3 years ago; its founders are Dr. Sanders, Ms. Cameron and Ms. Labella. The goal of the Wakefield Pantry is to provide students in need with school supplies, hygiene supplies, clothing items, dry food and much more. These items have been donated from staff and parents at Wakefield; all to better the lives of students.
Dr. Sanders, our Assistant Principal, thought of the idea and put it into play. She joined forces with Ms. Cameron and Ms. Labella. After a while, word caught on. Now, the pantry even has a gift "wish list" for students that need some extra help.
Currently, the Wakefield Pantry is working with the Interact Club. The club wraps gifts and keeps tabs of all the donations they have in stock and what they need to work on bringing in.
"Its more of a communication between teachers and staff. We want to make it as discretionary as possible. Its kind of about teamwork through the confides of people of the school who are able to help kids. We don't want to embarrass anybody or bring attention to anybody who perhaps is in a difficult spot." said Ms.Cameron. Last year, Manaal Quadri repositioned the way they got donations as part of her senior project. The slips are filled out by a teacher if they see a student that needs a coat, or anything else. The team provides the requested items from the donation closet, and gives it to the teacher of that student in need. This helps to keep donations anonymous.
The Pantry wants to make sure the coat supply is ready for the winter season. Last year they gifted 20 coats, and are looking forward to being fully stocked before the winter holidays come.
The pantry is always collecting items. Before winter break, the program will set up a Go-Fund-Me page and ask people to contribute as much as they can.
Want to help? Start by storing coats, mittens, hats, dry foods, and hygiene items now. If you know someone who needs food or clothing, talk to a trusted staff member and they can offer that student's name to The Pantry.
View Comments (1)