Celebrate with the French Department on Friday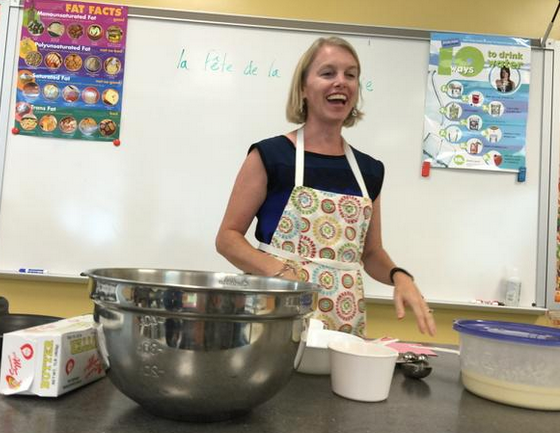 The French are known for their love of cooking and eating good food; la Fête de la Gastronomie starts this Friday, September 25th and celebrates this love of all things food. Everyone is getting involved in this celebration: the French Department, the Cafeteria, and even Food and Fitness teacher, Ms. Mukherji. Wakefield is one of only 18 schools in the country to celebrate this 3 day event.
Wakefield Food Services will serve French cuisine throughout the day on Friday. Breakfast will start with croissants along with yogurt. Per Ms. Wheelock, veteran French Teacher, "the lunch options of Ratatouille, Dijon chicken, and Pizza à la baguette….with…sides include haricots verts, salade verte and brown rice" will be available.
Also teaming up with the French department, Food and Fitness teacher, Ms. Mukherji will do her first cooking lesson of the year on Thursday, the 24th and Friday, the 25th to contribute to the festival. Ms. Haley made a special visit to the Food class this week to talk about France and demonstrate how to make the perfect crêpe batter. Ms. Haley said the wonderful thing about crepes is that "they can be sweet or savory." You can add ham or cheese to the crêpe batter to have a great start to the day, or add nutella for a nice dessert. Crêpes are the most versatile French food. Ms. Mukherji's cooking groups will create and taste their very own crêpes as official participants in Friday's festival.
Make sure you stop by the cafeteria on Friday for Breakfast or Lunch and try some fabulous French food!
Check out this link for more information about the celebration in France.
Viva la Wakefield!
View Comments (1)