5 Local Restaurants You Gotta Try
Kabob Palace: This Asian restaurant specializes in making delicious, spicy curries and other Middle Eastern dishes. It is a Pakistani restaurant to be precise and the menu is great in which they have various curries, kabobs (including both chicken and lamb), spicy boneless chicken, samosas, karahis and much, much more. It has a great place to sit and eat and it also a really friendly and relaxing atmosphere. The place is usually packed with customers coming and going. The lines are usually long but trust me, it's definitely worth the wait!
Jaleo: Jaleo is a Spanish tapas bar. It has really amazing food and has a nice, pretty interior with a great atmosphere. It serves sensational Spanish food and my personal favorite are their bacon wrapped dates – oh they're a big hit! Anyone who absolutely loves Spanish food (like me) should really go check out this restaurant. It'll surely make you happy!
Good Stuff Eatery: Good Stuff Eatery serves farm fresh hand-crafted burgers with sidelines. The burgers taste really, really good but I personally didn't like the sideline I chose the first time I went there which was "Uncle D's Famous Chili". It did not taste good. The second time I went there I ordered fries and they were awesome. My personal Favorite from the burgers is the "Colleti's Smokehouse". Trust me, this place will not let you down.
Legal Sea Foods: This authentic sea food restaurant is one of the county's best restaurants. You are sure to fall in love with its food even if you aren't a sea food fan. When visiting this restaurant make sure to try its shrimps and fish n' chips, they are definitely the restaurant's best dishes. It has a great atmosphere with the options of sitting outside in the fresh, soothing air with your surely delicious meal or sitting inside and enjoying the wonderful music (they don't have a bad taste in music that's for sure!). Make sure to visit it soon!
Chick-fil-A: Chick-fil-A is a fast food chain that serves delicious chicken sandwiches, nuggets and out of this world chicken strips served with super amazing sidelines. I personally like their spicy chicken burger with a sideline of waffle potato fries or sometimes coleslaw, for me, that makes the best combination ever! The milkshakes that they serve are pretty awesome too! The best one is definitely their cookies and cream milkshake. Ahhh, it's the best I've ever tasted! Make sure you check it out ASAP!
Leave a Comment
About the Contributor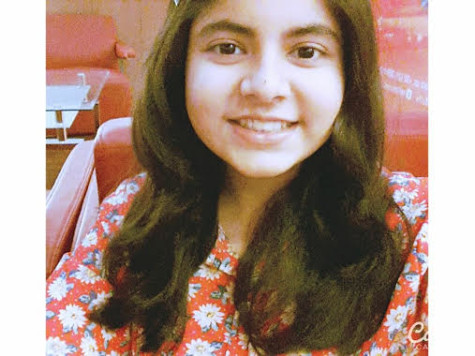 Mominah Tariq '19, Staff Writer
Mominah is a freshman at Wakefield. She loves to interact with different people and is a big fan of music. She also loves to play tennis!