Chieftain Chocolate Chomp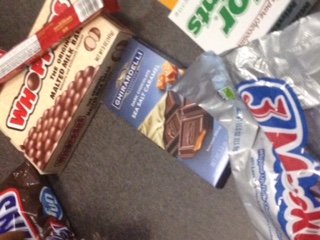 With Halloween less than four days away, The Chieftain staff took it upon ourselves to try different flavors of chocolate in an effort to answer the age old question, "which chocolate is the best?" We sampled a wide variety of chocolates all in the name of research. 
Apparently, some of our staff are avid 3 Musketeer fans, and they quickly went for these chocolates, grabbing handfuls at a time. When our very own Features Editor, junior Destiny Heid, took her first bite out of her 3 Musketeers bar, she described it as "very light and airy on your tongue." Junior Fred Bowles took a whiff of the chocolate concoction before biting into the bar and said, "it has a bit of a fruity smell; I find this more appetizing than other chocolate smells!"
Some of our staff couldn't wait to break off a piece of that Kit Kat bar. Sophomore Irina Lopez, our Opinions Editor, unwrapped her Kit Kat bar from its brilliant red wrapper, and described the chocolate itself as "a golden piece of chocolate with a light-brown overtone." The second Kit Kat lover, sophomore David Baron '18 sunk his teeth into the chocolate and was overwhelmed by "the crunch of the wafer." Freshman Mominah Tariq summarized how all of the Kit Kat eaters feel about this chocolate; "the combination of chocolate and wafers in one bar is genius."
Filled with caramel and peanutty goodness, Snickers seems to be a Chieftain favorite. Most people gravitated towards these heavenly chocolate colored wrappers. They seemed to enjoy the sticky sweet mix of peanuts and caramel. A select few, like junior Oscar Martinez, didn't seem to enjoy this bar due to it's abundant amount of "peanut mess."
Also filled with miraculously sweet goodness are Ghirardelli Milk Chocolate Caramel Squares. They smell like, in freshman Savannah Williams' words, "sweet clouds with a taste of heaven." However, junior Myisha Ferguson thought this chocolate had a less than pleased reaction, remarking through bits of the candy that it had "a soft texture and strong aroma." Senior Briana Osorio summed it up by saying, "the gushy texture fills you with sweet goodness, reminding you of the perfect square of deliciousness."
Another Ghirardelli product was not well received by the Chieftain staff. Blame it on the dark chocolate. The Ghirardelli Sea Salt Caramel Dark Chocolate Squares were not a hit. Freshman Luci Harris thought this chocolate was somewhat crumbly at first, but amazing after biting into it.
So, try something new this holiday candy season; you may like it!