Nine Stories of Wakefield
The Chieftain sat down with former Wakefield students who now work here. Alumni staff talked about what has stayed the same and changed since their time in high school. Read their stories below.
Andrew Allen class of 2007- Resource officer Andrew Allen talked of his transition to Wakefield; "I went from being the oldest in my middle school to the youngest at this big school." One memorable teacher for him was Dr. Wiersma. She got him interested in math. She made him understand it, even though it had never been his strong suit. Mr. Allen also mentioned Dr. Megargee, Ms. Sheridan, Ms. Warschaw, Ms. LaBella, Mr. Strauss, and Ms. Deskins. He said, "it's always good to have people here with you to share the history. I used to see them work and now I am working with them; it's about giving back. I love this new school." He played Varsity Basketball and Football. He did his senior project on being a student athlete and the balance needed for both. "Starting out here helped make college easier," said Allen. He started working here in 2013; "I am excited for the future. Wakefield, we are growing.
Patricia Buchanan class of 1973- Ms. Buchanan said, "I was scared when I first came here." As the year went on, she settled in, "the teachers, principal, and assistant principal taught us that there is nothing in this world that you can't do…all you need is education. I loved the activities that they had. I loved the business part like keyboarding, and technology, and I loved PE!" When asked to explain the difference between 1973 Wakefield and today, she said, "it was just black and white students, and they had to come together without looking at the color of the skin. It is like that now… the students accept you for who you are." She started working here in 2002. Since she has been here, she has been very happy.
Deidrich "Coach D"Gilreath class of 2004- When reflecting on his time as a student, Coach D said, "my four years here were pretty good. I played football and basketball. I would say that I was a fairly popular person." He remembers Mr. Lutz, Dr. ElGamal, Mr. Burns, and Ms. Madden. When asked about the difference in the school, he said, "It's definitely bigger and Town Hall is great because it lets kids socialize and do homework. I also see classes coming down and working in Town Hall. The old school was like home because I was there for four years, but I am getting used to this school." He remembers the 2004 Basketball championship, the pep rallies, and homecoming. Coach D started working here in 2010. About coming back to work here he said, "It's my fifth year working here now, so I am used to it. But at first it was really weird, for one my little brother was going to this school while I was working here." Overall, Coach D embodies #warriornation; his final words of the interview were simply, "GO WARRIORS!"
Heather Comeau class of 1989- Ms. Comeau said, "It was scary at first. I didn't know any people because I went to school in North Arlington…There were no freshmen meet-and-greets; you were on your own. From her desk in the main office, she looked out the huge window behind her; she said, "this new school is beautiful. The old school was more traditional looking and dark. The pool was separate from the school…so after gym class, you had to walk up the hill to get to the school. The lockers were so big that you could fit a person in there. They were life size!" When asked what she did for fun, Comeau said, she tried out for all the plays, would help out with the production of plays, and was even in the Art club. She started working here in 2008. "It felt very strange at first…I love the old building, but I am glad we have this new place which has so much light."
Rayvon 'Bear' Hackley class of 1990 – "When I first walked in to this school they had a lot of trophies from the main lobby all the way down to the main office. The teachers and staff were great but we had less staffing. I enjoyed my four years. My toughest years were my freshmen and junior year." Hackley said, "I struggled in English class, but my teacher pushed me and pushed me to pass her class, because I needed to graduate." When he was in high school, Mr. Glascock was the assistant football coach. What did Bear do in school? He was in the cooking club. He played different sports like wrestling, track, and football. He started working here in November of 1999. About coming back to work here he said, "It feels great giving back to the community…[and it is] pretty much like home. Wakefield is one of the best schools." His strongest memory is from when President Obama visited. "I witnessed the president come to our school,  not only once, but twice. That is very rare for anyone to witness. We are unique and very diverse."
Allan Glascock class of 1984- He started here as an 8th grader playing sports, so before he walked through the doors he already knew people. He said, "I played three different sports all through high school and I was Homecoming King." None of the teachers he had are here now. He did share a memory; "my favorite teacher…we used to call him 'Flash'; he was a US History teacher. As a freshman I used to sleep a lot in class and he used to tease me about it." When asked about the difference in the classes he said, "there were people that used to get pushed through school, now you have to pass a minimum requirement at the high school level." He started coaching here in 1985 and teaching in 1993. About coming back to work here he said, "I have always been comfortable with it. I was 20 years old when I started working here, so there wasn't really any down time to say how is it different, because I never really left."
Rebecca Kigin class of 1992- Kigin transferred here as a junior. She was at HB Woodlawn. Of the move she said, "it was the best decision I have made in my life. All my friends went to Wakefield. I needed the structure of the classroom, and the teachers were great. Even people I didn't know were kind. I kind of went everywhere. I didn't fit in with just one group." Ms. Kigin had Mr. Kelly as a teacher; it was his first year. Mr. Baker was her basketball coach. "When I walk around here I love seeing the number of students that have friends in every shape, color, hue. It's not like all the white kids sit here and all the black students sit here; there is always variation and diversity in the group of friends, and I think that's awesome. Ms. Kigin was always a rule follower, but, "senior year, I got kicked out of English class, and the teacher made me sit in the hallway. I didn't cry, but I felt like crying." Another memory she shared is from Homecoming. She said, "we had gotten this really nice car and went to dinner beforehand. I had gotten this strawberry frozen slushy. When we got in the car I spilled it on my friend's white homecoming dress. It was a mess!" Ms. Kigin started working here in 1999. She said, "this is my 17th year, and the weirdest thing for me is two guys I went to school with have children who are freshmen. That's weird." A final thought: "Wakefield helped me to find out what I wanted and who I wanted to be! Before that I was just another kid in high school who didn't have any direction."
Ivan Lopez class of 2006- Of his time as a Wakefield student Lopez said, "it was phenomenal. Wakefield was such a good fit for me. I got to meet a lot of different kinds of people. I was involved in a lot of activities. I wasn't very athletic, and I still am not." Who were his teachers? Ms. LaBella, Ms. Mohler, Mr. O'Donnell, and Mr. Beitler all taught Lopez. Lopez said Mr. Beitler was a father figure to him and they were very close. They are still close friends now. He smiled and it was easy to see the high school student peering out from the counselor's face. He went on; "I do miss the old building, it had a different vibe to it…It's a beautiful new building though." How did he get involved? He did SGA, yearbook, was part of senior class planning, and was in COHORT for all four years. It is his first year working here. He said, "It feels so real; Wakefield is so dynamic. Wakefield has such a family environment. I really like that family feel."
LaRenda Bigsby class of 2003- Looking back on her time as a student, Ms. Bigsby said, "I got to know people from different countries and cultures. I wasn't really a people person, so I just kept to myself. One thing I liked about Wakefield when I was a student was senior project; it helped me to be more responsible…independent because there was a lot of work." Her teachers were Ms. LaBella, Mr. Palmer, and Ms. Snyder. "Ms. LaBella, she always used to tell me you can do it. She pushed me to apply myself," said Bigsby. How is it different? "The school is not different to me, the only thing that's different is the building. This is a friendly school. It's a good environment to be in." When talking about the difference in the classes she said, "back then we were not required to take SOLs. The curriculum they have now is harder than what we had." This is her  first year working at Wakefield; "I am home, this is where I want to be."
Once a warrior, always a warrior.
#BleedGreenandWhite
#WARRIORNATION
View Comments (1)
About the Contributor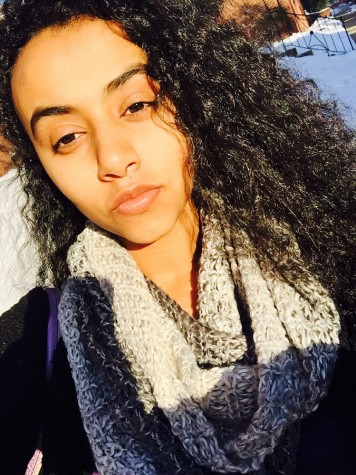 Elizabeth Aregai '18, Staff Photographer
I am from Eritre,a also known as being Habesha. I enjoy spending time with my family and friends. This year, I hope to learn more about Journalism; I am...