Wizards Broke Magic's Spell, Beat Bucks, Knocked Down By Knicks, and Spun Spurs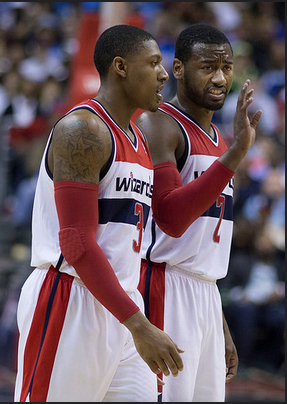 John Wall has lead the Wizards to a 3-1 record in the regular season without the help of former key player Paul "The Man" Pierce, and with the help of new addition to the team Kelly Oubre. The Wizards beat the Orlando Magic, 88-87 with a last minute shot by star player John Wall, defeated the Bucks in a last minute ditch effort, 118-113, fell to the Knicks Saturday night, 117-110, and grounded the Spurs on Wednesday, 102-99.
WIZARDS VS. ORLANDO
Even though our home team Wizards showed promise during the preseason, they still seem to have trouble assembling a set roster. They barely bested a team that didn't make it to the playoffs last year, so they might be in trouble. The first win of the regular season wasn't spectacular. Shooting a terrible  overall 39.3% percent from the field, it would have been impossible to win if the Magic didn't shoot a worse 37%. Before the season, Bradley Beal told ESPN reporters, "I'm the best in the league" which remains to be seen, but the 22 year old did put up impressive numbers with 24 points and six rebounds in that first game.
WIZARDS VS. BUCKS
The Wizards hit two in a row; last Friday the Wizard gave a monstrously good performance with John Wall scoring 19 points and racking up 10 assists for his first double-double of the season. Bradley Beal, Wizards starting shooting guard, put up amazing numbers from the arc shooting 5 of 6 from three with a total of 26 points. Wall really put the pressure on the Milwaukee offense with 2 steals and 5 blocks leading the way on D with numbers you rarely see from a guard.
WIZARDS VS. KNICKS
Saturday, the Wizards just didn't have enough gas in the tank  in the final minutes of the game while Knicks' Carmelo Anthony had just enough left giving them the lead behind his lights out 37 points and 11 in the fourth. John Wall's 25 and Beal's 26 just weren't enough to keep up with Carmelo.
WIZARDS VS. SPURS
After the Knick's loss, they headed into a tough game against the San Antonio Spurs. Wall and Beal lead the way to a win. This dynamic duo might put the wizards back into the conversation for having the best backcourt in the league. Beal already thinks so. He told CSN Washington that, " no one can stop me, plain and simple."
The Wizards are 3-1 in the season. They are pitted against the Boston Celtics tonight at 7:30pm. With Beal and Wall at the helm and the emerging new stars findin their footing, #diehardfans see the win in sight.
View Comments (1)