Teen Assaulted in Math Class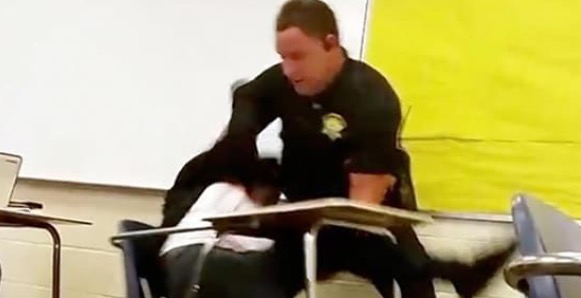 It has been over a week and everyone is giving their opinion about the incident at Spring Valley High in South Carolina. A resource officer was asked to remove a 16 year old African American female student from the classroom.
His idea of removing her was to flip her backwards in her chair, throw her on the ground, drag her out of the classroom, and handcuff her. She was injured greatly. It was the officers job to keep his head and remove the student without physical violence.
The video has gone viral all over the internet. Everyone is showing the altercation. At first the officer was placed on administrative duty and investigations were being held. Then, he was fired on Wednesday. That seemed like a step in the right direction for equality.
But then, County Sheriff Lott said she was partly to blame. What?
Then, on Friday students protested the firing. Why?
It just doesn't make sense, #warriornation. No one deserves this. Especially a 16 year old girl sitting in math class with her phone on her desk.