Kirk Cousins Named Offensive Player of The Week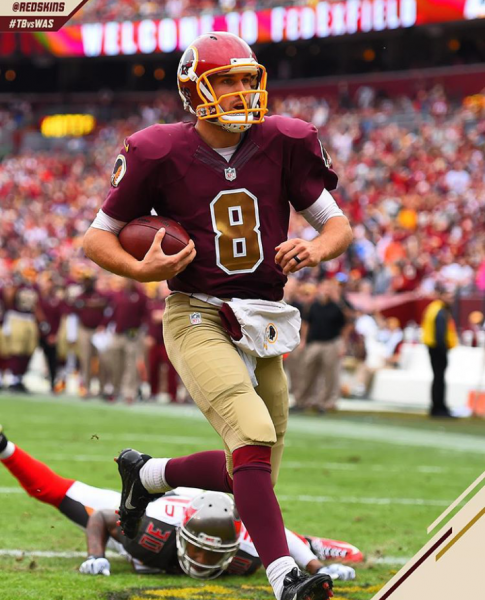 Quarterback Kirk Cousins has been awarded the NFC offensive player of the week after the biggest comeback in franchise history for the Washington Redskins against the Tampa Bay Buccaneers in the last game.
#HTTR fans wondered if Cousins was the right man for the job before the last game on October 25th. He answered the doubts with actions not words. Tampa Bay was up 24-0 in the second quarter, Cousins hit Wide Receiver Ryan Grant for an 18-yard gain which allowed Cousins to rush for an 8-yard TD to get Washington on the board and spark their comeback. Coming into the third quarter, still down 24-7, Cousins connected with Wide Receiver Andre Roberts for a 38-yard gain and on top of that a 15-yard penalty on the defense. This allowed Kirk Cousins to fling the ball to Ryan Grant for a 3-yard TD closing the gap to 24-14.
Redskins then set themselves up with a surprising onside kick early in the 4th quarter…WASHINGTON RECOVERED the ball! After the successful onside kick, Kirk Cousins passes the ball deep down the middle to Ryan Grant for a 32-yard completion. A few plays after that, the Redskins found themselves in the red zone and in for a 3-yard TD pass to Tight End Jordan Reed cutting the deficit 24-21.
With 2:24 left on the clock in the 4th quarter, and the Redskins with the ball trailing 30-24, would Kirk Cousins, nicknamed Captain Comeback, posed for another one? Yes. He connecteds with Jordan Reed for a 6-yard TD with 28 seconds left on the clock.
Then, after a fumble recovery by Redskins Nose Guard Chris Baker, Cousins came back out on the field and took a knee securing Washington's 3rd win of the season.
Cousins finished the day making history for the Redskins; he threw 40 times and completed 33 passes (82.5%), 3 passing TDs and a rushing TD. What a day for Kirk Cousins! And and a well deserved NFC offensive player of the week award!
Watch the game to see if the Skins can keep up the momentum! The Washington Redskins are 3-4 and playing @ New England Patriots, who are 7-0. They will need every player at their best to beat the undefeated Pats.